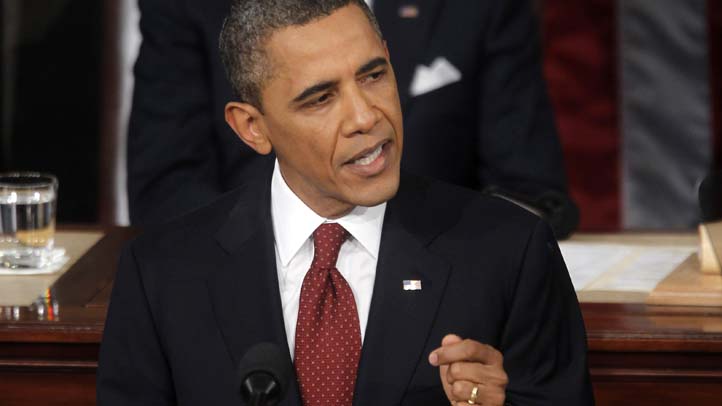 Reaction from prominent Illinois officials was swift after President Barack Obama delivered his third State of the Union address Tuesday night.

Gov. Pat Quinn
"We in Illinois applaud President Obama for the vision he laid out in tonight's State of the Union. The President put forth a blueprint for a growing economy that gives all Americans equal access to the success through hard work that has always made this nation great. We agree with the President that we can't wait – we need to keep pushing to restore our economy and the American middle class.

"In Illinois, we are focused on the same issues that the President laid out tonight: creating manufacturing jobs and training our workforce for the 21st century; making education more accessible; modernizing our roads and bridges; and prioritizing housing for our families.

"And as the President said, an America built to last calls for responsibility from each of us and fairness for all. We commend the President on his vision, and look forward to working together as a nation to restore our economy and create opportunities for all Americans."

Lt. Gov. Sheila Simon
"President Obama's blueprint for our economy is built on a strong, skilled American workforce," Simon said. "A growing number of jobs require employees to hold more than a high school education, but not necessarily a bachelor's degree. Illinois community colleges are poised to help more students earn career certificates and associate degrees that translate to good-paying jobs. I will work with the colleges, state leaders, and President Obama to ensure that we offer clear paths to employment. If our students work hard in school, we want them to find a job here in Illinois that will enable them to raise a family, own a home, and save for retirement. Our focus on college completion will help create an America that's built to last."

Mayor Rahm Emanuel
"The President gave a great speech tonight. As he outlined his vision for the country, I am pleased that he mentioned strengthening our nation's community colleges as a way of providing our young people a ladder to the middle class. Chicago is leading the way in that effort with our College to Careers Program, linking our community colleges with partners in industry to provide students the skills they need to compete."

Sen. Dick Durbin
"Tonight we heard the President lay out a plan for an American economy that values hard work, promotes fairness and rewards responsibility. He spoke about an economy based on American energy and manufacturing and built by the highest skilled workers in the world."

"I support that plan and the President's vision for an America that helps those who are suffering, emboldens those who are working hard and playing by the rules and levels the playing field for everyone – not just the privileged few."

Rep. Peter Roskam (IL-06)
"I was hopeful for tonight's speech, but unfortunately, it was a missed opportunity to turn the page on three years of broken promises and failed policies. Rather than commonsense solutions, Americans heard a campaign speech of broad platitudes supporting the same policies that have made our economy worse. The President spoke about American energy yet didn't reverse his indefensible decision to deny the creation of 20,000 new private-sector union jobs from expanding the Keystone Pipeline. And while he spoke about taxes and jobs, he missed an incredible opportunity to push for comprehensive tax reform – a proven solution that could unite this entire country and unleash American business innovation – last passed in an election year. Republicans stand ready to work the White House and Senate Democrats on genuine solutions that would help small businesses. A good place to start is with the nearly 30 House-passed jobs bills gathering dust in the Senate."

Illinois GOP Chairman Pat Brady
"Wasn't this the same speech as three years ago?"

Rep. Jesse Jackson Jr. (IL-02)
"President Obama struck the right chord and the right themes."

Rep. Randy Hultgren (IL-14)
"I had high hopes for the President's speech tonight – that he would put the country and the American people ahead of his own reelection and his liberal base; but unfortunately his priority tonight was divisive rhetoric, rather than working across the aisle for a better America."

Rep. Don Manzullo (IL-16)
"If the President is serious about wanting to help our employers put Americans back to work, he must stop talking about the two things that will keep Americans on the unemployment lines and extend our difficult times – tax increases and excessive government regulations. Employers are not going to create jobs when they could face huge tax increases and unnecessary regulatory burdens in the near future. We need to reduce the cost of doing business in this country and help make our employers more competitive so they can expand and create jobs."

Rep. Robert Dold (IL-10)
"Coming from a large manufacturing district, I was pleased that the President focused on manufacturing and job-training. I was also pleased to hear the President mention Master Lock, headquartered in Illinois' 10th District, for their work to bring jobs home," said Dold. "Everyone can agree that jobs and the economy are the most important issue facing our country today, so now is the time to work together, find common ground, and start moving our nation forward. The President must work to unite the country, not divide it. We need to focus on putting Americans back to work and start putting people before politics and progress before partisanship."
<a href="http://
News breaks at inconvenient times. Take NBCChicago.com with you on your iPhone app and be in the know whereever you go. Visit the app store and download it today!

">Download our iPhone App. News breaks at inconvenient times. Take NBCChicago.com with you on your iPhone app and be in the know where ever you go. Visit the app store and download it today!