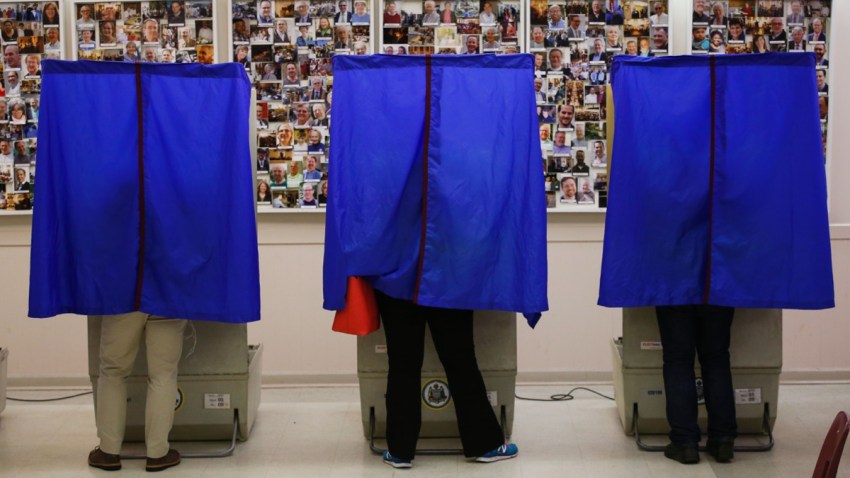 With a month to go until the November general election, Ward Room offers a list of some of the most competitive down-ballot races in the state. Check the blog for further coverage, as well as weekly Campaign Round-Up and twice-weekly Race to Watch Columns.
U.S. Senate
Mark Kirk (R): Incumbent Kirk is a veteran of the U.S. Navy Reserve considered to be a social moderate and fiscal conservative. The congressman disavowed Republican presidential nominee Donald Trump in June and continues to be critical of the candidate. He has served as an Illinois senator since 2010.
Tammy Duckworth (D): Duckworth currently serves as the U.S. Representative for Illinois' 8th Congressional District. A combat veteran of the Iraq war, she subsequently served in the Illinois and national offices of Veterans Affairs before being elected to Congress.
Libertarian Party candidate Kenton McMillen and Green Party candidate Scott Summers will also be included on the ballot.
Storyline: Kirk and Duckworth are locked in one of the nation's most-watched Senate races. Although some polls show Kirk gaining ground, FiveThirtyEight gives Duckworth an 87 percent chance of winning in November.
8th Congressional District
Raja Krishnamoorthi (D): Krishnamoorthi was appointed a special assistant attorney general in the Public Integrity Unit by Illinois Attorney General Lisa Madigan before leaving the office to serve as Illinois' deputy treasurer in 2007. He has received a host of high-profile endorsements, including one from President Barack Obama.
Pete DiCianni (R): DiCianni, who ran unopposed in the Republican primary, has served as a member of the DuPage County Board of Commissioners and the Illinois Autism Task Force, which he was appointed to by former Gov. Pat Quinn and re-appointed to by Gov. Bruce Rauner. He also served as mayor of Elmhurst.
Storyline: Krishnamoorthi and DiCianni face off in the race for Tammy Duckworth's soon-to-be-vacated House seat in Illinois' strongly Democratic 8th Congressional District.
10th Congressional District
Bob Dold (R): Incumbent Dold is facing another rematch with Brad Schneider in November. Since December of last year, Dold, who serves on the U.S. House's Ways and Means Committee, has worked to distance himself from Republican presidential nominee Donald Trump. In June, he confirmed to WLS-AM's John Howell that he would not endorse Trump's candidacy.
Brad Schneider (D): Schneider beat out Dold for the 10th district House seat in 2012, but lost his reelection bid to him in 2014. Schneider is committed to accelerating long-term growth and creating economic opportunities for middle class families. Like Dold, he also supports gun control and abortion rights.
Storyline: Dold and Schneider face off for the 10th Congressional District seat for the third time since 2012.
Illinois Comptroller
Leslie Munger (R): Incumbent Munger was appointed state comptroller by Gov. Bruce Rauner in 2015. She previously served as a corporate executive for the Chicago-based Helene Curtis Industries, Inc. During her time as comptroller, she has made state lawmakers wait in line to receive paychecks with other state vendors and pushed a "No Budget, No Pay" bill for legislators.
Susana Mendoza (D): Chicago City Clerk Mendoza is a formidable opponent for Munger. Aside from her work as city clerk, she also served as a member of the Illinois House of Representatives from 2001-2011.
Libertarian Party candidate Claire Ball and Green Party candidate Tim Curtin will also be included on the ballot.
Storyline: The race, which is being framed as a proxy battle for Rauner and House Speaker Mike Madigan, is primed to be one of the state's most expensive this election cycle. According to a recent Paul Simon Public Policy Institute poll, Mendoza leads Munger by a margin of 40 percent to 32 percent among likely voters.
Cook County State's Attorney
Kim Foxx (D): Foxx, a Chicago native raised in the Cabrini-Green housing projects, served as an assistant state's attorney for Cook County for 12 years. More recently, she has served as chief of staff for Cook County Board President Toni Preckwinkle.
Christopher Pfannkuche (R): Pfannkuche served as a criminal prosecutor for the Cook County State's Attorney's office for 21 years. He ran unopposed on the Republican ballot in March.
Storyline: Foxx, who is riding a wave of high-profile endorsements and substantial contributions, will likely beat out Pfannkuche to replace current Cook County State's Attorney Anita Alvarez. Foxx beat out Alvarez in the March Democratic primary while the state's attorney was still reeling from the fallout from the Laquan McDonald shooting video.