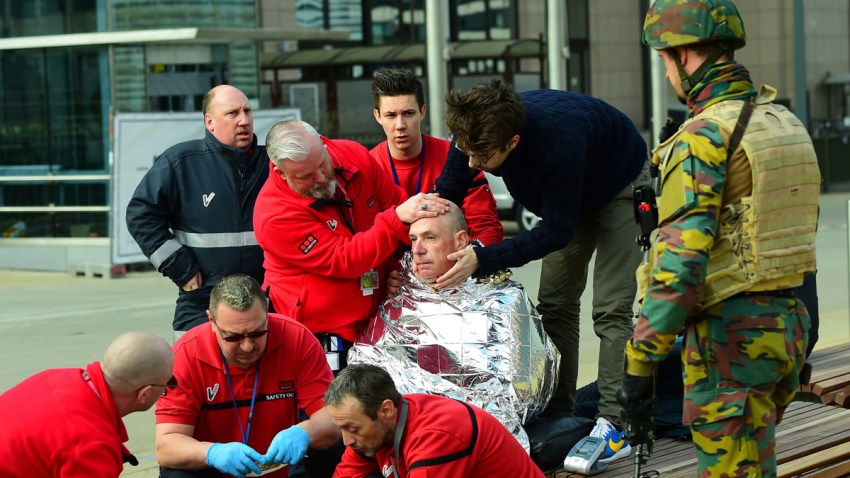 Illinois politicians are reacting to Tuesday's terrorist attacks in Brussels that left at least 31 dead.
"While an ocean may separate us, Chicago and Brussels are united by common values of life, liberty, and the pursuit of happiness," Chicago Mayor Rahm Emanuel said in a statement. "While there are no known threats to the City of Chicago, we will remain vigilant to ensure the safety and security of all of our residents."
"Chicago will continue standing with the Belgian people both today and in the difficult days ahead as they move forward in their healing process," Emanuel added.
Two explosions rocked the check-in zone of Brussels Airport and a third blast hit a metro station in the Belgian capital, in what appeared to be a coordinated attack, NBC News reported.
ISIS has claimed responsibility for Tuesday's attacks, according to a news agency affiliated with the group.

In response to the deadly attacks, the Chicago Police Department stepped up presence Tuesday morning at airports and transportation sites within the city.

Interim Police Supt. John Escalante ordered the amped up security measures just after 7:30 a.m. after similar precautions in New York and Washington, DC and are not in response to any specific threat.

U.S. Representative Mike Quigley echoed Emanuel's sentiments and called for a proactive response to the attack.
"In light of these new attacks, it is clear that we must continue to strengthen our intelligence gathering capabilities and increase intelligence sharing with our allies to destroy terror safe havens, identify new plots and hunt down the terrorists responsible for this atrocious attack," Quigley said in a statement. "We must also ensure that our intelligence community is working closely with federal, state and local law enforcement agencies to increase security and awareness here at home."
"Preventing a similar attack from happening in Chicago is my top priority and I will continue working vigilantly to keep Chicagoans safe," Quigley added.
Fellow U.S. Representative Tammy Duckworth, a combat war veteran, sent her condolences to victims and families affected by the attacks. She also pledged support to American allies, but warned against compromising the country's values in the name of security.
"America stands shoulder-to-shoulder with our allies around the world, ready once again to remind our enemies of the global community's strength and resilience in the face of such unfathomable evil," Duckworth said in a statement. "While we must remain steadfast in our resolve to hunt down terrorists wherever the hide as well as defeat them on the battlefield, we cannot abandon our values in pursuit of that effort."
"The America that I fought to protect leads with strength, not fear."
The attacks comes on the heels of increased counterterrorism activity in Brussels. On Friday, Europe's most wanted man, Salah Abdeslam, was captured in the Belgian capital in connection with last November's Paris terror attacks.