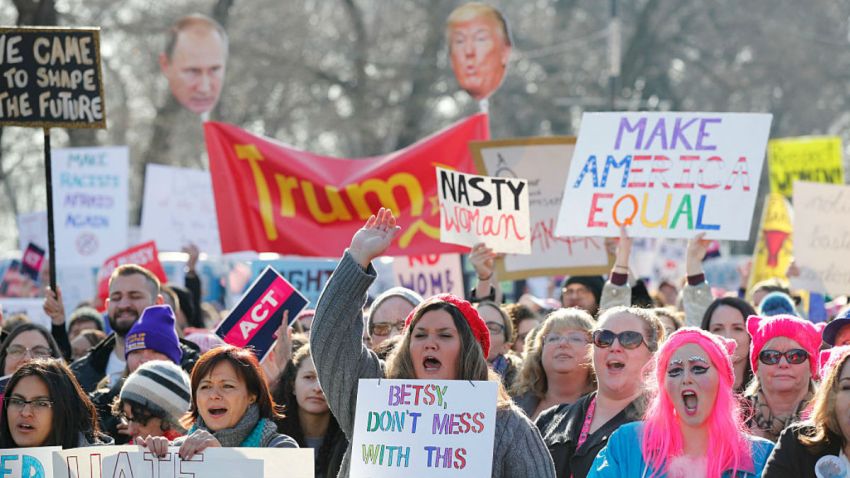 Illinois Democrats marched alongside millions of Americans this weekend at women's marches across the country.
Ald. Ameya Pawar, the first Democrat to announce his candidacy in the 2018 governor's race, marched in Chicago Saturday as did businessman Chris Kennedy, another Democrat reportedly mulling a run for governor,
Another prospective Democratic gubernatorial candidate, Rep. Cheri Bustos, also marched in Chicago, one day after she attended President Donald Trump's inauguration despite "vehement disagreement" with the Republican's behavior and "billionaires-first agenda."
Meanwhile, Sen. Tammy Duckworth delivered a passionate speech at the Women's March on Washington Saturday.
"This is about our country," Duckworth said Saturday, "I didn't shed blood to defend this nation – I didn't give up literally parts of my body — to have the Constitution trampled on."
Duckworth lost both legs piloting a Black Hawk Army helicopter over Iraq in 2004. Duckworth also attended Trump's swearing-in Friday, stressing the importance of a peaceful transition of presidential power.
Nevertheless, the senator criticized Trump Saturday, claiming his nominees for top government positions comprise a "swamp cabinet." Over the course of Trump's campaign, he promised to "drain the swamp" of lobbyists, corruption and corporate money in Washington, D.C.
Sen. Dick Durbin joined a march in Springfield that backed the Women's March on Washington Saturday, according to the Chicago Tribune. He was joined by state Rep. Carol Ammons, state Sen. Andy Manar, as well as members of Planned Parenthood of Illinois and the AFSCME union.
Durbin attended Trump's inaugural Friday, but criticized his address during a speech at Saturday's march, according to the report.
"It was an inaugural address, with the exception of two or three sentences, which really appealed to the divisions and resentments of America," Durbin said. "Instead of asking us to look up together to make a better nation, he gave people reasons to fear and to hate."
"That is not what the leader of the United States of America should be saying to people," he added.
During his speech, Durbin slammed Trump's proposed policies on immigration and health care, claiming he would stand up to Republican efforts to repeal Obamacare, the Tribune reports. He also reportedly encouraged attendees to organize to oppose the incoming Trump administration and its policies.