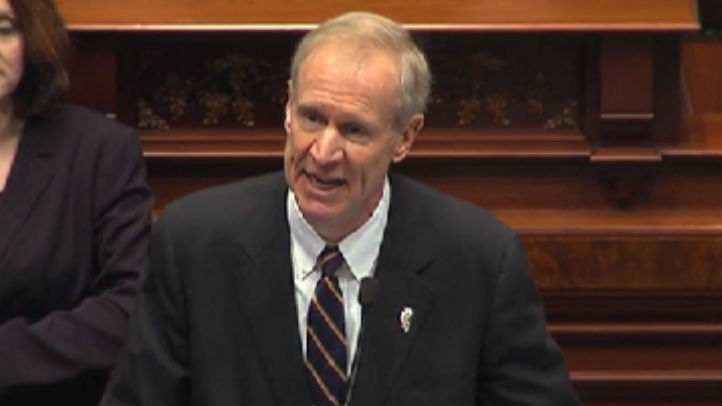 Illinois Democrats responded to Gov. Bruce Rauner's State of the State address Wednesday by voicing frustrations about the fallout from the state's budget impasse.
Following the governor's address, Speaker of the House Michael Madigan passed out a memo accusing Rauner of planning the state's financial crisis.
"As early as 2012, Bruce Rauner made it clear that imperiling critical services would help create leverage to his agenda," said the memo.
The memo also included quotes attributed to Rauner.
"The governor's speech did not make the point there is no budget," said Madigan at a press conference Monday.
At a separate press conference Wednesday, Representative Ken Dunkin called out Madigan for being ineffective.
"We've stopped doing our jobs," said Dunkin. "We should not hold citizens in Illinois hostage to Mike Madigan's shenanigans."
Rauner's second State of the State offered a different tone from his speech a year ago and noted that Illinois "can't wait any longer." He also called for a "grand compromise" that will "cast partisanship and ideology aside."
"If each of us commits to serious negotiation based on mutual respect for our co-equal branches of government, there's not a doubt in my mind we can come together to pass a balanced budget alongside reforms," Rauner said. "If we work together, Illinois can be both compassionate and competitive."
While some Democratic legislators, like Senate President John Cullerton, commended the governor for his plans on education funding and pension reform, many still criticized his budget stance.
"On a daily basis our safety net is unraveling, leaving disabled seniors and homeless veterans nowhere to go," Cullerton said in a statement. "We're not honoring our student aid commitments to college students. We're not providing any public support to our public universities and colleges. That's all because of the stance the governor has taken over the state's budget. He caused this. He can end it."
State Senator Pat McGuire also stressed the state's need to pass a budget.
"Illinois has been without a proper budget for nearly eight months," McGuire said in a statement. "It's time to get past the divisive rhetoric and political sloganeering."
State Senator Daniel Biss showed joined in the concern for state services that have been most affected by the budget impasse.
"Notably missing from the governor's speech was an acknowledgment that Illinois' network of human services and higher education are in crisis because of the budget impasse," Biss said in a statement. "This problem must be resolved quickly."
State Senator Napoleon Harris also called for action.
"This isn't the time to talk," said Harris in a statement. "Words don't feed seniors, keep college students in school or provide childcare for working families."
State Senator Michael Hastings echoed these sentiments.
"Our state is struggling without a budget, said Hastings in a statement. "Our social service and higher education are at the brink of collapse."
Congresswoman Tammy Duckworth responded to Rauner's address during a speech at Chicago State University Monday.
"Here at Chicago State, operations may shut down within a month," said Duckworth. "We can't punish kids like this."
As of Wednesday, no budget has been approved and there's no sign lawmakers and the governor are making progress. With voters heading to the polls in mid-March, many predict the budget stalemate may linger even longer as lawmakers focus first on their own re-election.
But Republican Minority Leader Sen. Christine Radogno said that's "not an excuse."
"There's always an election around the corner in this state," she said. "That is not an excuse for not doing things."