(NOTE: Daily press conferences from Gov. J.B. Pritzker and Chicago Mayor Lori Lightfoot will be streamed live in the player above. Check back for updates.)
Chicagoans will want to keep their eyes on the skies Tuesday as the Blue Angels prepare for a special flyover in the city.
But you don't need to be in Chicago to watch the special show.
Plus, a change has been made in predictions over the state's coronavirus peak, but what will that mean for residents?
Here are the latest developments on the coronavirus crisis today (May 12):
Dr. Ngozi Ezike Refutes Notion That Illinois is Over-counting COVID-19 Deaths
Dr. Ngozi Ezike, director of the Illinois Department of Public Health, dismissed claims that the state is overstating the number of coronavirus-related deaths amid the ongoing pandemic, saying that only deaths of patients with laboratory-confirmed cases of the virus are being counted in the official tally.
During her daily press statement Tuesday, Ezike said that she has heard concerns about the methods the state is using to report coronavirus deaths, and assured residents that the state is working to make sure that their counts are as accurate as possible.
 "We are reporting those deaths that have laboratory confirmation, meaning that they have been tested and a laboratory test indicates that they were COVID positive," she said. "As we learn more about the disease, there may have been less typical presentations of COVID-19 that were not appropriately attributed to COVID because there wasn't a test done because the suspicion was not there."
Ezike said that the state is being careful to make sure to weed out deaths where the patient had COVID-19, but died in a manner completely detached from the virus, such as gunshot wounds or motor vehicle crashes.
Illinois Sees Record Number of Coronavirus Cases in a Single Day as Total Tops 80,000
Illinois officials reported 4,014 new cases of coronavirus Tuesday, a single-day record for the state that lifted the total number of cases over 80,000.
As of Tuesday, the state reported 83,021 confirmed infections since the pandemic began.
Health officials also reported an additional 144 fatalities, which bring the state's death toll to 3,601.
The latest rise in cases comes as the state also reported a record number of daily tests.
According to officials, Illinois returned 29,266 test results in the last 24 hours. That brings the state's total number of tests performed to 471,691 as of Tuesday.
That drops the state's positivity rate to 17.6 percent. The positivity rate has been declining across Illinois since spiking at a high of 21.36 percent on April 22.
Of those infected with coronavirus, 4,626 remained in the hospital as of Tuesday, with 1,215 in intensive care units and 730 on ventilators.
COVID-19 Deaths Count in Cook County Tops 2,500: Medical Examiner
The Cook County medical examiner's office has confirmed another 86 deaths related to COVID-19.
There are now 2,552 deaths in Cook County from the coronavirus, the medical examiner's office announced Tuesday.
Deaths in Cook County account for 73% of all COVID-19 deaths in Illinois, which stands at 3,459.
Rewatch the Blue Angels' Chicago Flyover
The Blue Angels flew over Chicago Tuesday as part of a nationwide tribute to honor healthcare workers and first responders during the coronavirus crisis.
The squadron's flight path for the event brought them from the South Side of Chicago to the West and North Sides before ending along the lakefront. It began at 11:45 a.m. and ended around noon.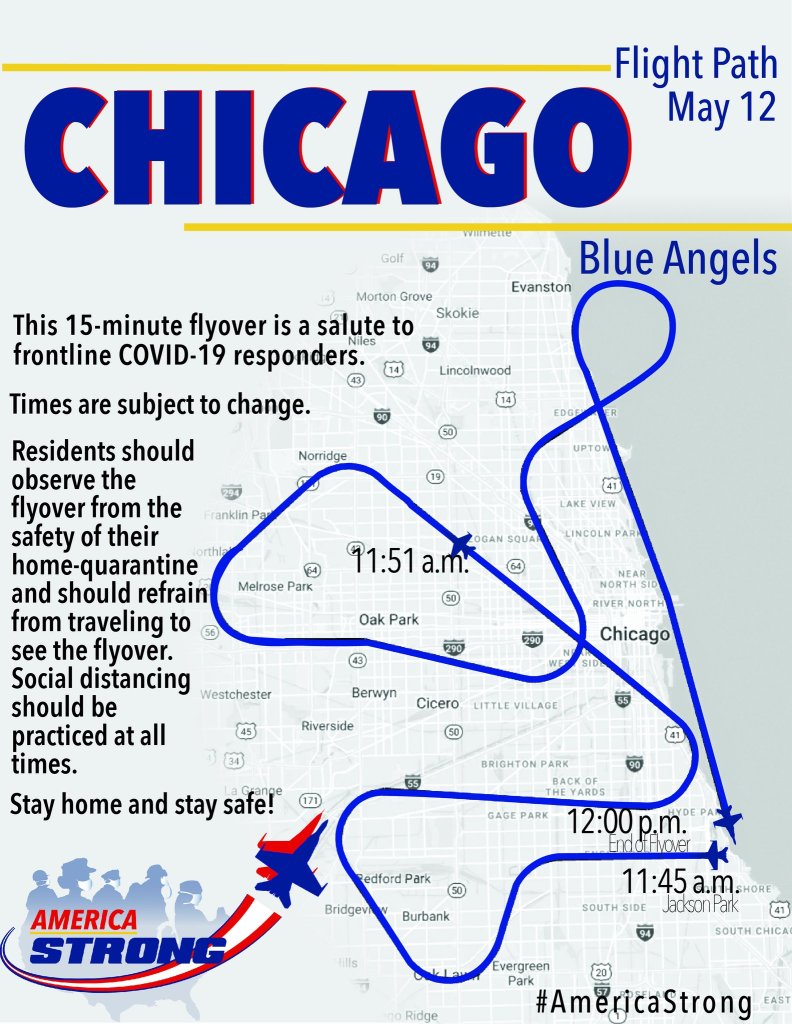 "Residents should observe the flyover from the safety of their home-quarantine and should refrain from traveling to see the flyover," a message within the announcement reads. "Social distancing should be practiced at all times."
Not able to see it in person? Here's how you can re-watch it.
Bradley University to Resume On-Campus Instruction in August
Bradley University in central Illinois will resume on-campus instruction in the fall semester despite the continued presence of the coronavirus in the state, university officials announced Monday.
University officials said Bradley's location in Peoria, with its population of about 111,000, and the school's student population of about 5,000 gives administrators confidence regular operations can resume in a safe environment.
Bradley suspended on-campus instruction at the end of March, and carried it through to the end of the spring semester this week.
United Airlines Announces Policy Changes After Social Media Images Show Packed Flight
After photos of crowded flights went viral, a major airline has announced changes to help customers maintain social distancing amid the ongoing coronavirus pandemic.
United Airlines made the announcement on social media Monday, saying that customers will be allowed to rebook flights if their flight is too crowded to maintain proper social distancing.
"Starting next week, customers on flights that are expected to be closer to full capacity can rebook on a different flight or receive a travel credit," the company said. "We'll do our best to reach out about 24 hours before departure and we'll also provide options at the gate."
Chicago Police Department Coronavirus Cases Surpass 500
Chicago police announced 12 more cases of COVID-19, bringing the number of cases in the department to 502.
Of the confirmed cases, 477 are officers and 25 are civilian employees, police said.
The department announced the death of a third officer from complications of the coronavirus on April 17.
Change in Illinois' Coronavirus Peak Timing: What it Means
During his daily coronavirus press briefing, Illinois Gov. J.B. Pritzker said that modeling data now indicates that the state may not hit the so-called "peak" in the coronavirus pandemic until as late as mid-June.  
Originally, state officials had hoped to hit a peak in April, but that timeline has now been broadened due to new modeling data.
"Compared to the forecasts I shared on April 23, the timeframe of plateauing near a peak has been expanded from mid-May into mid-June," Pritzker said.
Pritzker said that the state has made progress in its fight to slow the spread of COVID-19, but that the progress has only helped to flatten the curve of the virus and potentially lengthen the time that numbers will plateau, rather than causing a decline in numbers statewide.
"On a statewide basis, we haven't passed our peak yet," he said. "We've seen more stability in our numbers, but we're not seeing significant declines in key metrics, including hospitalizations."
While Pritzker admitted that the news about the potential peak of the virus not hitting until the middle of next month is "disheartening" in many ways, there is reason for optimism because of the expanded timeline.
"This does signal success," he said. "A pushing out of our estimated 'peak' is a natural consequence of flattening the curve. Pushing the peak down and therefore to a longer timeframe might not sound like good news, but I promise you, it is saving lives."