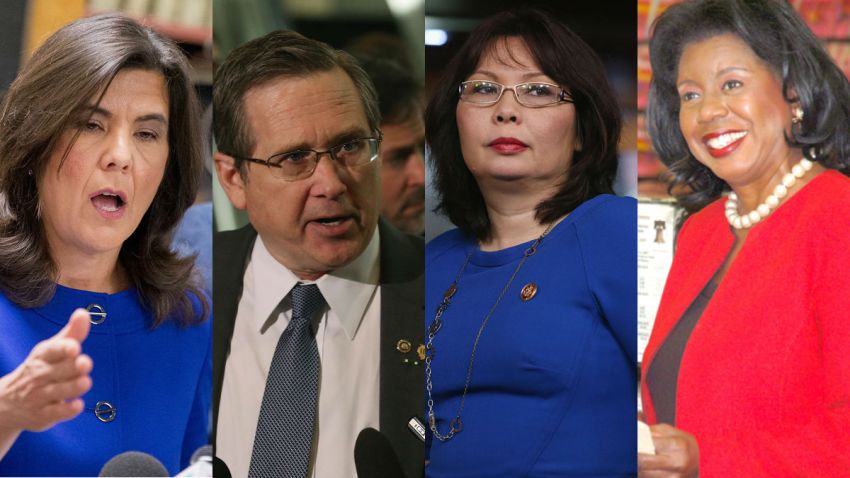 The 2016 election season in Illinois promises to be a hairy one for some previously untouchable incumbents, which means the state as well as the city of Chicago could look a little different next year depending on the outcomes.
As candidates gear up for next year's election, many voters are looking for a change from politics-as-usual, mirroring the presidential race and its large number of "non-traditional" politicians.
As the spring primaries inch closer, here are some of the important Illinois races to keep an eye on.
Illinois Senate Race
The biggest race in the state is the Senate race, which pits incumbent Sen. Mark Kirk against Rep. Tammy Duckworth (8th District), former Urban League President and CEO Andrea Zopp or State Sen. Napoleon Harris.
Duckworth, Zopp and Harris should all strike some fear in Kirk as they bring many of the traits that he lacks to the table. Duckworth, an Iraq War veteran who became disabled when her helicopter was shot down overseas, is considered the frontrunner of the primary race and has the backing of many in her district as well as name recognition to rival Kirk's. She lost some points, however, when the Cook County Democratic Party anounced it was not endorsing her in the race, instead leaving it open between Duckworth and Zopp.
Zopp, an African-American businesswoman in Chicago, has proven to be a formidable opponent for Duckworth and Harris, despite the fact that many outside of the city do not know her name. Of all years to run for U.S. Senate, Zopp's relative lack of political experience could be a boost for her campaign. Even the New York Times named her in an article about anti-establishment candidates gaining ground across the political board.
Harris, meanwhile, brings celebrity into the race, even though he entered it months later than both Duckworth and Zopp. A former NFL player for the Oakland Raiders, Minnesota Vikings and Kansas Chiefs, Harris currently serves as a state senator for Illinois' 15th District, representing parts of Cook and Will Counties.
Harris has more than celebrity on his side, however. He also has the backing of some prominent supporters, including State Senate President John Cullerton, who called Harris a "celebrity with substance."
Harris and Zopp will likely be each other's biggest opponents. As details of Zopp's past emerge, it looks like she will have much to prove. In light of the recent SUPES Academy scandal that left former Chicago Public Schools CEO Barbara Byrd-Bennett with a federal indictment and a guilty plea, Zopp has also come under fire for her role in approving the $23 million no-bid contracts while she was serving on the Chicago Board of Education. It's safe to say none of Zopp's political ads emphasize her experience on the board.
Sen. Kirk, meanwhile, faces battles of his own in his quest for re-election. Over the past year, he has been mired in mini scandals, from being caught calling Sen. Lindsey Graham a "bro with no ho" to attacking the Chicago Tribune for a story that was not yet published. Despite his incumbency, this will be a tough election for Kirk no matter who he faces in November.
Cook County State's Attorney
Anita Alvarez, who was first elected to the seat of Cook County state's attorney in 2008, is running for re-election amid countless calls for her resignation in the wake of the Laquan McDonald dashcam video release. This year's election will be Alvarez's first contested run in the Democratic primary in eight years.
The dashcam video shows Chicago Police Officer Jason Van Dyke shooting 17-year-old McDonald 16 times, leading to his death, in October 2014. Despite the city's efforts to keep the video away from the public eye, the footage was released a few hours after Van Dyke was charged with first-degree murder in late November 2015, more than a year after the fatal shooting.
Alvarez has come under fire for the length of the investigation, and several activists claim she was involved in a cover-up of the case, which Alvarez disputes. Her opponents, former prosecutors Kim Foxx and Donna More, were vocal in the days following the video's release, and they have both ridden the wave of criticism of Alvarez and accused her of poor handling of the case.
As Alvarez struggles under the fallout from the McDonald case, Foxx and More have picked up endorsements and boosted their own campaigns. Foxx, in particular, has racked up some impressive endorsements, including Cook County Board President Toni Preckwinkle, Rep. Jan Schakowsky, SEIU Local 73 and a handful of aldermen.
While the McDonald case could turn the whole election against Alvarez, it is not her only obstacle. Even before the case erupted in the media, she faced a tough primary. The Cook County Democratic Party usually endorses the incumbent, but the party chose not to endorse Alvarez this time around. Instead, they left the race open and did not offer any endorsement.
Cook County Clerk of the Circuit Court
Clerk Dorothy Brown has lost the endorsement of the Cook County Democratic Party, which revoked it amid a reported federal investigation concerning Brown, but the long-time clerk says she is not out of the race.
Brown has held the office for 15 years, but her odds at continuing to hold the seat lessened when Politico reported that sources told them the FBI conducted a raid at her home and seized her cellphone. According to Politico, the raid was believed to be an outgrowth of an investigation of Brown's husband, Benton Cook.
Although Brown has not been charged with anything and the circumstances of the investigation have not been revealed, the Cook County Democratic party did not take its chances with her and instead endorsed Ald. Michelle Harris. Attorney Jacob Meister, former Ald. Shirley Coleman and community activist Tio Hardiman are also running against Brown in the March primary.
8th Congressional District
Rep. Duckworth's soon-to-be-former seat in the northwest and west suburbs is also up for grabs next year. While the race may be more low-profile than the Senate race, it has often proved to be an interesting one. This is the district that elected both Duckworth and former Rep. Joe Walsh, who gained notoriety on the national scene in the short time he was in office.
Former Deputy State Treasurer Raja Krishnamoorthi is the frontrunner on the Democratic ticket, and, according to the Chicago Tribune, he far outdid his primary opponents in early fundraising. Krishnamoorthi made unsuccessful runs for comptroller in 2010 and the 8th Congressional seat in 2012. Although Duckworth is out of the race, making Krishnamoorthi's path clearer, her legacy is likely to stick around as Krishnamoorthi tries to gain favor with her past voters.
Krishnamoorthi faces state Sen. Michael Noland and Villa Park Mayor Deb Bullwinkel in the spring primary.
On the Republican ticket is DuPage County Commissioner and former mayor of Elmhurst Pete DiCianni, Wood Dale resident Joseph Hantsch, disability rights attorney Andrew Straw and accountant Richard Evans.