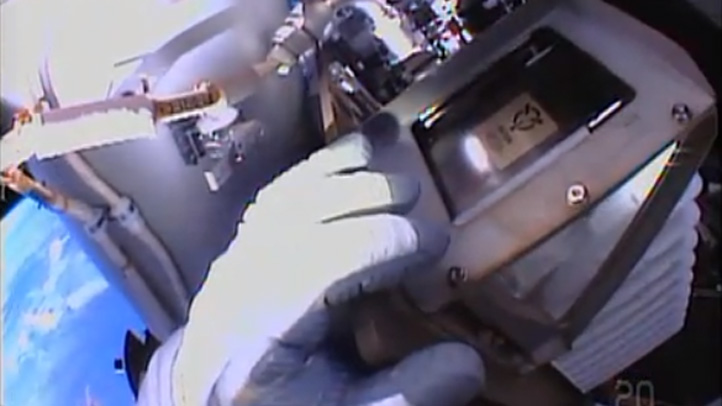 A University of Illinois graduate who is an astronaut on the International Space Station is scheduled to walk in space to make repairs to a pump with a bad valve.
Mike Hopkins will go with another American astronaut on what NASA calls an urgent spacewalk to fix a broken cooling line. The first walk on Saturday will take about six hours and NASA has scheduled another one for Monday and a possible third to take place next week, possibly on Christmas Day.
Hopkins is a 1991 engineering graduate who was also a co-captain of the Illini football team, the Champaign News-Gazette reported Wednesday. He has been on the space station for about seven months in what is his first space flight.
Another University of Illinois alumnus and former astronaut, Joe Tanner, said the spacewalk should be an unforgettable experience for Hopkins. Tanner, a Danville native, walked in space seven times during four shuttle missions.
"What you're not ready for is the actual emotional experience of being in the vacuum of space and how cool that is," Tanner said Tuesday from Colorado, where he teaches. "When you first pop out of the hatch, you know this is a different environment."
NASA hopes to wrap up the repairs in two spacewalks and not have to do a third on Christmas Day. Astronauts have ventured outside of their spaceship on Dec. 25 only once, back in 1973 during Skylab, America's first space station. Shuttle astronauts finished a series of spacewalks on the Hubble Space Telescope on Christmas Eve 1999.
Half of the space station's cooling system shut down last Wednesday, forcing the six-man crew to turn off all nonessential equipment, including some science experiments. Because of the valve failure, one of the two cooling lines became too cold.
The cooling system, which runs ammonia through the lines, is critical for dispelling heat generated by on-board equipment.
While the astronauts are safe and comfortable, NASA wants the system back up to full strength, in case of another failure that could leave the orbiting outpost more vulnerable than it is right now.
Copyright AP - Associated Press