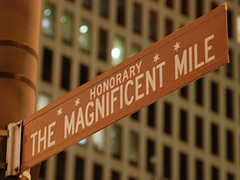 People might be losing their jobs, beloved local establishments might be closing their doors, and it might be gray and rainy today, but none of that can put a damper on Chicago Ideas Week's sunny optimism. The weeklong gathering of the world's top speakers and Chicago's brightest thinkers isn't until October 10-16, but today it unveiled its icon: a bright yellow balloon. Countless balloons have been strung up across the city, with suggestions like "create more parks," "make history," and "protect bike lanes" written on them.
"These are in the spirit of ideas taking flight," Jessica Malkin, CIW's associate director told NBC Chicago. She added that the phrases are real submissions people sent in during the development of Ideas Week -- so keep your eyes peeled for your own, unless you were the genius who suggested "no more balloons!"
It's also likely meant to be interpreted as a thought balloon, like the kind Garfield uses to express his distaste of Mondays. But no one can dispute they're certainly making things a little cheerier out there today.
For a full look at Idea Week's schedule, hop over to its official website.