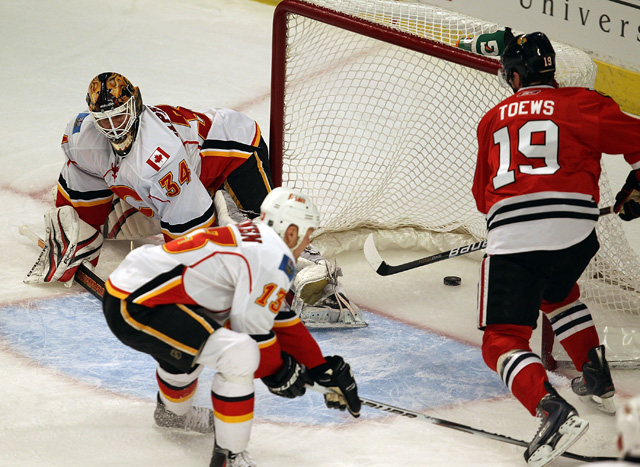 Six is better than five.
We know that now after last night's victory over fellow playoff-chasers the Calgary Flames
With the triumph, the Hawks move into fourth in the conference, meaning if the season ended today Game 1 of the first round would take place on Madison at the United Center. This should be a goal for the 'Hawks from here on out. Home-ice advantage could make a bigger difference than usual in a conference as tightly grouped as this.
Last night the 'Hawks put together a pretty awesome to behold 40 minutes, led by their captain who is basically a child stepping over a model city right now. They were faster, worked harder and looked more lethal than their Canadian counterparts. The Hawks did exactly what we asked, used their speed on the outside to get around the hulking Flames d-men, and then moved the puck quicker than they could react. When they couldn't carry the puck in, they settled for shallower chips into the zone to get to it first and avoid being windshield-bugs against that defense.
And yet they still had 3rd period problems. The Hawks didn't step off the gas, save the first five minutes, where they were caught cold. But they weren't great either, and Corey Crawford was definitely off, taking terrible angles and kicking out egregious rebounds that the Flames were too happy to take back.
Other thoughts:
Madhouse Enforcer is going to have to invest in a bigger thesaurus because I'm running out of adjectives and metaphors to describ how awesomely Caption Jonathon Toews is playing. But those "M-V-P" chants that rained down after the game are not without warrant. Another month of this from him, and he'll have the strongest case around.
Michael Frolik finally broke his duck, and has he deserved it. As I mentioned yesterday, his shooting % was a silly 4.0, which for a forward as skilled as he is is extremely low, and speaks to a fair element of bad luck. More than his goal was his assist on Toews's second, where he took a hit to make the pass to Toews. So Panthers fans, this guy's soft? Okay..
Didn't notice Chris Campoli, and that's fine.
That's the second game at the UC against the Flames this season where the Hawks thought it would be cool to leave Jarome Iginla alone in the slot. Guys, I marvel at his release too but that doesn't mean I want to see it against you.
The Hawks got goals from their top 3 lines last night. Please, continue this.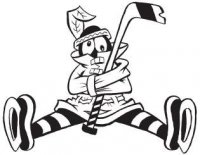 Sam Fels is the proprietor of The Committed Indian, an unofficial program for the Blackhawks. You may have seen him hocking the magazine outside the United Center at Gate 3. The program is also available for purchase online. Fels is a lifelong 'Hawks fan and he also writes for Second City Hockey .