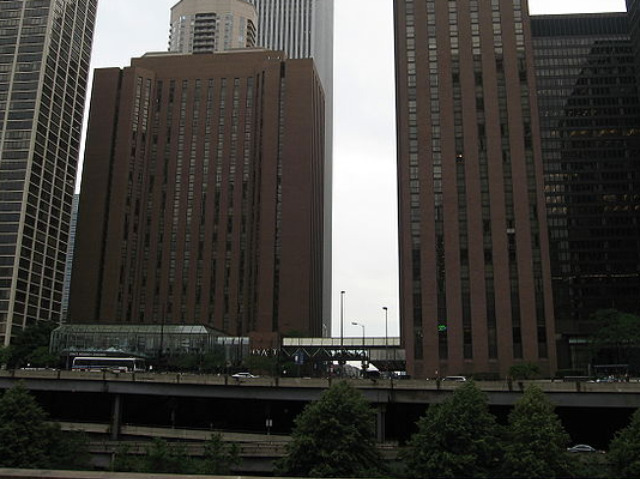 Around 400 workers from Chicago's Hyatt Regency hotel staged a brief but pointed walkout Wednesday to protest poor working conditions.
"Work conditions, lack of a contract and banishment of organizers to the premises led to this walkout," said Henry Tamarin, president of Unite Here Local 1 of the roughly 2-hour protest. "We made a judgment that this is going to be a long-term struggle, so we had them go back inside."
Workers say hotel management barred union representatives from entering the building for more than a week to discuss increased workloads that followed the hotels renovation.
Staff has had navigate heavier beds when changing sheets, clean more glass and serve more guests without extra time to do it.
Tamarin said his constituents tried to tell management that workers were getting hurt.
"One of the managers said if you don't like it, walk out," he said. "So they said fine."
Hyatt Regency, who has been criticized by the hotel union before, alerted their guests to the protest in a letter, while attempting to provide normal service.
"We are disappointed that the union, rather than continuing to negotiate during the worst economic crisis in a generation, has engaged in a work stoppage at our hotel."
Management released a statement to the press.
"Hyatt Regency Chicago, along with other hotels in the city with union associates, have been negotiating with the union, and we fully expect to reach a satisfactory agreement," said John Schafer, vice president and managing director, Hyatt Regency Chicago.
"Today's union action, however, is regrettable, especially in light of current economic conditions. We believe the most productive place to address important workplace matters is at the negotiating table. By working together, we can reach an agreement that provides our guests with the level of service they have come to expect from Hyatt, and continues to provide team members with competitive wages, good benefits, and quality health care."
Workers who returned to duty were asked to be alert for another potential walkout in the future.