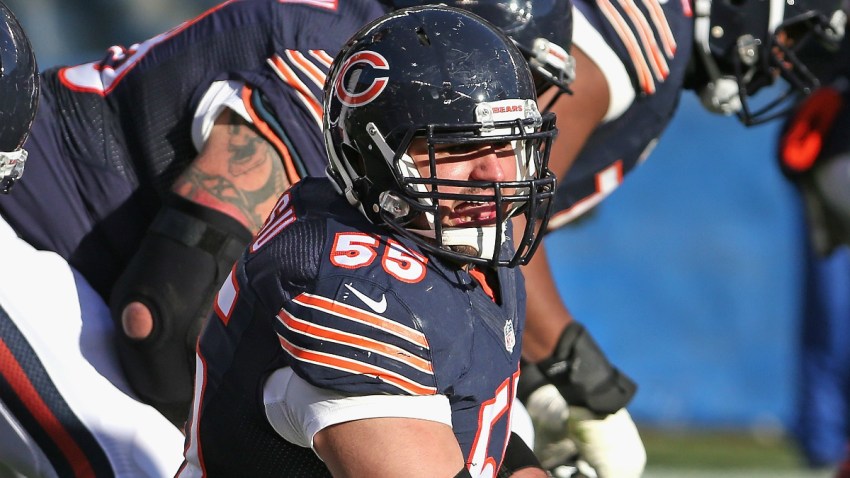 The Chicago Bears could be looking at some serious shuffling on their offensive line, as center Hroniss Grasu was forced out of practice with what the team is calling a potentially serious injury.
Grasu, who was selected by the Bears in the 2015 NFL Draft, was hoping to be the team's starting center when the season began, but those hopes could be dashed after he suffered a knee injury during the Bears' workout at Soldier Field Saturday. Grasu was carted off the field following the injury, and was consoled by teammates, including Jay Cutler, before he was taken to the locker room.
After practice, Bears head coach John Fox didn't have a full update on Grasu's condition, but the coach didn't sound optimistic about the prognosis.
"I don't know the extent of it," he told NBC 5's Peggy Kusinski. "It looked fairly serious. We don't really know until the medical people look at him."
The injury was a non-contact one, according to Fox, and occurred when Grasu was changing directions during drills.
If Grasu is out for a significant amount of time, the Bears have several options that they can explore. Veteran lineman Ted Larsen could be tapped to play the center position, or he could move to the left guard spot and have rookie Cody Whitehair slide from left guard to center.
The Bears could also explore the free agent market at the position, with players like Will Montgomery (who played with the Bears in 2015 before breaking his leg) still available as the team's first preseason game looms.