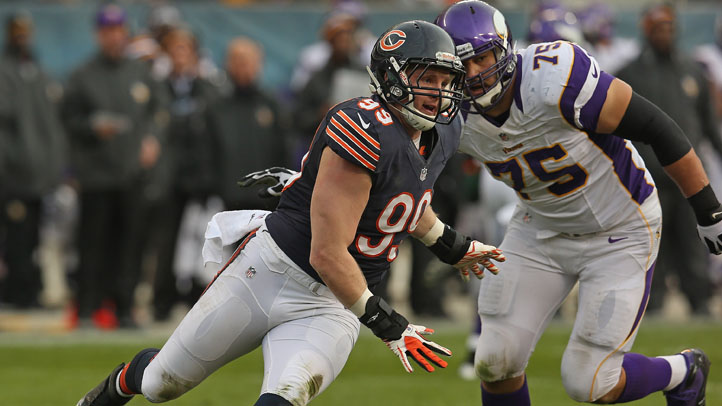 As the days pass since Henry Melton went down with a season-ending ACL tear in the Chicago Bears' Week 3 victory over the Pittsburgh Steelers, the Bears are still trying to get their now dangerously thin defensive line corps rearranged before Week 4.
Fortunately they do have a player on the roster in Nate Collins who impressed many scribes in training camp, but beyond that, the options aren't exactly great. There is a dearth of available three technique defensive tackles, and even a guy like Stephen Paea, who is having arguably the best season of any Bears defensive lineman, likely isn't fast enough to move into the role.
The team did sign Cheta Ozougwu onto its practice squad on Tuesday. He played in two games for Chicago last season, but according to Michael C. Wright of ESPN Chicago, the more likely scenario for him isn't a return to Chicago, but rather allowing the Bears to promote DE Aston Whiteside from the practice squad to the 53 man roster. Whiteside is another guy who could be used for depth purposes, as he did some work at defensive tackle during training camp, but is a natural defensive end.
At this point, the most likely scenario for the Bears is to use Collins on a good chunk of plays, but also to shift Corey Wootton inside and insert Shea McClellin in on the end.
There are definite benefits to that strategy. Wootton hasn't been doing all that well on the pass rush this season, but moving him to a spot like tackle could help ease some of the pressure placed on him by the early season struggles of the guy at the other end of the line, Julius Peppers. Peppers did a better job against the Steelers on Sunday, including drawing blockers to him so that the blitzes of linebackers DJ Williams and James Anderson would be more effective, but the fact
remains that on downs where the Bears only rush four down linemen, Peppers and Wootten aren't getting to the quarterback, so moving Wootten inside isn't a big loss.
McClellin is a good pass rusher, but his big weakness could limit what the Bears can do to replace Melton. If McClellin is on the field on rushing downs, opposing teams will likely run all day on him, because his technique on rushing plays is, in a word, abysmal. He gets man-handled in those situations, and his inability to shed blocks enables running backs to get around the outside against him at will. Against a team like the Detroit Lions it may not matter much, but when push comes to shove against teams who can deploy the run early and often, it could pose big matchup problems.
All in all, the biggest key for the Bears is going to be getting their defense off the field. They've had a tough time on third down this season, meaning that teams are extending drives and forcing the Bears to burn through more personnel. That lack of success means that depth is even more important to prevent big plays, and with the loss of Melton, that depth is even more diminished than it already was.
It will be interesting to see what Mel Tucker dreams up to make up for the loss of Melton, especially on running plays, but seeing how he adjusted his team's strategy in Sunday's victory over the Steelers, he is capable of making creative decisions to shore up deficiencies.