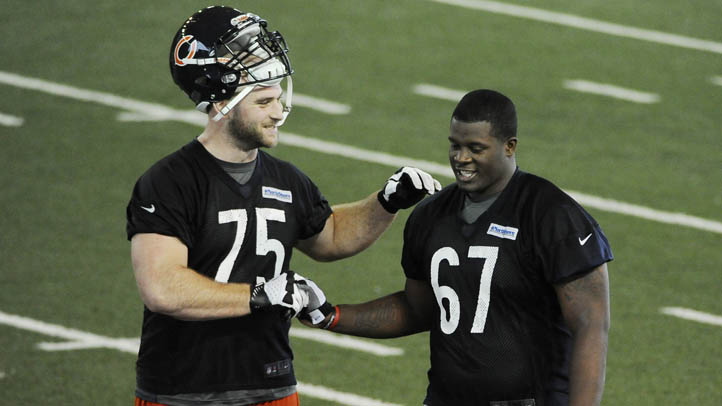 When the Chicago Bears head up to the Motor City to tangle with the Detroit Lions on Sunday afternoon, they will not only be trying to add to an early lead on the rest of the NFC North, but will also be trying to figure out a way to win the battle in the trenches too.
That's because rookies Kyle Long and Jordan Mills will have to battle a duo of defensive tackles that is pretty much unmatched in the rest of the NFL: Ndamukong Suh and Nick Fairley.
The pair hasn't exactly been jumping off the stat sheet this season, with Suh having zero sacks and with Fairley only having one and a half to his own credit. Despite that, Long knows what kind of challenge he is in for, as he told ESPN Chicago's Jeff Dickerson:
"I've been doing some early preparations. I've been trying to sharpen my mental sword, I guess you could say. I've been just trying to pick up some tendencies that I can use against their defense, hopefully.

"Suh is just relentless. He is a relentless football player. He is somebody that is just going to always keep coming and give you his best. He's got that kind of presence where you're like, 'I can't take a play off.' If you do, he will expose you."
Suh's tactics have been described by a good percentage of NFL scribes and fans as "dirty", but that doesn't diminish what an effective rusher he is. He closes off running lanes with his speed, and he has beaten all sorts of talented linemen in his relentless (there's that word again) pursuit of quarterbacks throughout the league.
So what do the Bears have to do to keep Suh in check on Sunday? For starters, and most obviously, guys like Mills and Long are going to have to be able to win that battle at the line of scrimmage. Jay Cutler has been getting rid of the ball very quickly this season, but on his big fourth quarter plays that have been a staple of this young NFL season, Cutler has had time to get set in the pocket and to make the plays downfield, and if Mills and Long can allow him to get set like that, then it is going to be a long afternoon for the Lions.
Another key in that same vein is that the Bears will likely have to use some sliding protections against Suh and Fairley, especially in the running game. Against the Pittsburgh Steelers in Week 3, that responsibility often fell to starting left guard Matt Slauson, who slid over to the right side of the line on several of Matt Forte's best runs of the evening. That strategy isn't always an effective one, but if Slauson can do it as well as he did in that game, then the Bears should be in good shape
no matter what formation the Lions throw at them.
Finally, the Bears have to be able to vary up their playcalling to ease the pressure on the line against such talented rushers. They did get a couple of big runs out of Forte against the Steelers, but during the later stages of the game, the Steelers made some good adjustments to stymie that running game, and making the Bears a one-dimensional team is never good against a player that can use his speed to make plays like Suh can.
If the Bears aren't successful in establishing the run in the early stages of Sunday's game, then it could be a bad day for Cutler in terms of getting hurried and punished in the pocket. He has emerged with barely a scratch after three games, but against a ferocious Lions team, he is going to have rely on his line and running back tandem to continue that trend.