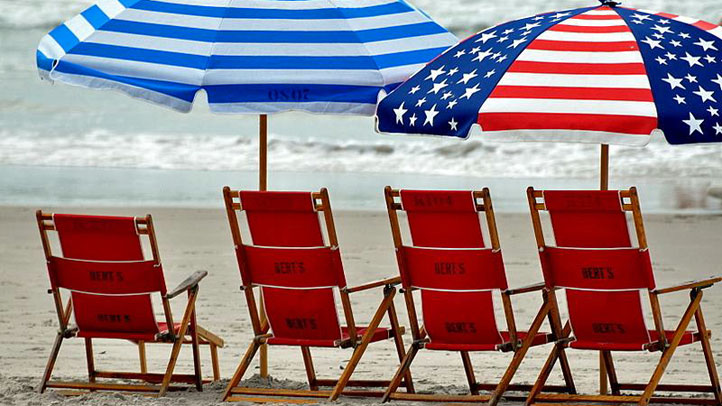 Whereas holidays are important human events and provide much-needed respites from the demands of our professional lives, there's nothing more damaging to business momentum than a holiday in the middle of the week. Celebrating America's independence traditionally falls on a Friday or a Monday but this week is obviously different. If business can't get done beforehand, momentum can be lost and, in some cases, difficult to resurrect.
As an entrepreneur or small business owner, you know the meter is always running. Good ideas are not confined to business hours, and the actionable steps that should follow quickly, sometimes can't wait until after a holiday. When it's your livelihood on the line, you've got to move light years per minute and generate the requisite kinetic energy to move the enterprise forward. Stop and smell the roses? Well, maybe after your venture is funded or you work out that kink in your logistics.
To entrepreneurs, the holiday couldn't have come at a worse time.
Create a LinkedIn Touch Point
At holiday time, if your boiling, bubbling pot has been shifted to the proverbial back burner, LinkedIn can be instrumental in keeping interest in you high so that you can reclaim your place in a collaborator's focus during the post-holiday catch-up. Leverage LinkedIn and message your contacts directly. Gently let them know that you respect their time, hope that they are enjoying the holiday and are excited about continuing the conversation.
Galvanize the Relationship
While in holiday limbo, share a relevant article with your LinkedIn contacts. (LinkedIn Today is a service that displays a wealth of valuable content right on the home page.) If a connection is endorsement-worthy, write a LinkedIn recommendation for him/her. Nothing will add greater strength to the relationship.
Understand the Digital Addiction
Business today requires constant vigilance and connectivity. There seems to be no delineation between the physical and virtual office. People are set up for work at home. They may be taking time off, but they are not off-line. They are checking emails, logging into LinkedIn and updating Facebook. Eye contact is becoming scarce; people are almost unrecognizable without their mobile devices in front of their faces. Capitalize on these habits by communicating at intervals and stay top-of-mind.
I'd like to wish you a Happy and Safe July 4. Oh, and that guy sitting next to you in the lawn chair on his smartphone? He's checking emails and missing the fireworks.
J.D. GERSHBEIN, CEO of OWLISH COMMUNICATIONS is a specialist in the Art and Science of LinkedIn. He is a trusted asset to top executives, managers, entrepreneurs, professional service providers, salespeople, and those involved in the search for their next great opportunity. J.D. offers unrivaled strategic direction to individuals and firms -- ranging from small to medium-sized businesses (SMB's) to Fortune 500 companies -- in using LinkedIn to build brand and generate revenue. Dubbed "The Oracle of LinkedIn," J.D. is considered one of the top LinkedIn strategists in the world and a pioneer in the design and delivery of LinkedIn educational programs. A highly sought-after international speaker, J.D. draws upon his background in marketing communications, industrial psychology, neuroscience, improvisational comedy and broadcast media to inspire opportunity-oriented professionals in all walks of business. J.D. is also an Adjunct Professor at the Illinois Institute of Technology's Stuart Graduate School of Business where he teaches the school's first-ever course in social media. His first book, a treatise on social neuromarketing and LinkedIn communication strategies will be available in 2012.