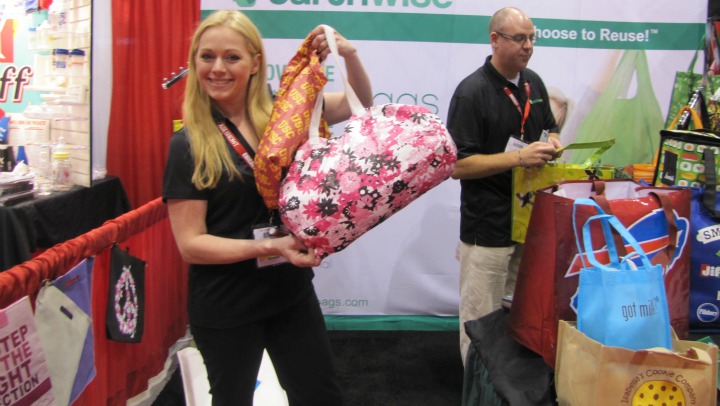 What's the best way to let people know about your business?
Give 'em stuff with your logo, of course.
The promotional products industry brings in $18 billion annually, but choosing the right swag from among the extremely wide range of gear is difficult.
Distributors attending a trade show at McCormick Place all seemed to have one thing in mind; new, innovative products.
Dave Vagnoni, a spokesman for Advertising Specialty Institute, however, says no matter which toy, keychain, tshirt or what-not you select, the rate of return on investment as other forms of advertisement.
Vagnoni said that the industry has been trending towards more electronic products.
Big sellers, he says, are "anything that goes well with an iPod or an iPad." With one exhibitor selling a sweatshirt that plays an iPod and another selling a solar powered briefcase that can power a laptop, there were plenty of tech savvy items to go around.
Most distributors are looking for a variety of products to offer their clients, not just electronics.
One distributor, Cathy Fox, said that her clients were looking for items like "bags, golf shirts and golf towels, but they were also looking for portable USB drives." Her clients include everything from medical seminars to grocery stores and banks.
A major factor in purchasing good promotional products is finding something that's useful. It's likely that many of the consumers have need for USB drives, but now every time they use one they will look at the logo of the company that paid for it.
Product quality is also essential to successful marketing. One distributor claimed "rich looking packaging" was a major selling point for their company. They provide leather goods with company logos embossed on the items and he says that the end user often keeps the packaging as well as the item.
A good promotional item can often be disguised as a gift as opposed to a marketing opportunity. The same exhibitor says they even package together their best selling items into gift sets. What used to be SWAG is now a thoughtful gesture from your company.
The most important aspect of finding the right promotional product line is determining what your consumer wants to use. So many of the products are unique but once you land on that perfect item - perhaps a motorized cooler - you've opened the door to a world of new marketing opportunities.