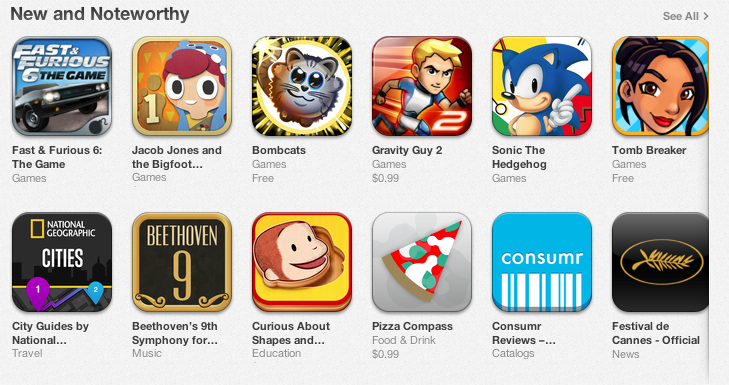 This one comes from Gamasutra, the games-industry-focused site, but it still has plenty of relevance to entrepreneurs and anyone who wants to make apps. There are plenty of legitimate complaints to be made against Apple's service, but, unfortunately, or fortunately, however you look at it, it's the best thing we got going. It's centralized. Everyone's there. But, yeah, there are a lot of problems.
Although, it should be stated, that Apple is aware of these problems and complaints. Since Steve Jobs' death, there have been a number of huge Apple missteps (like the "continuously improving" Maps app, which infamously got an Apple product manager fired), and the App Store is no exception. Earlier this year, the App Store was hiring editorial people to help make that part of iTunes much more user-friendly. To add trailers of apps in use. To help improve what's called "discoverability."
That's the problem with the store being successful, though: It gets harder and harder to find stuff in the store.
So, rather than gripe to Apple and be a digital drop in the e-bucket, there are things to do that are much more proactive.
There's an infographic over at Gamasutra laying all this out. I won't recite them here, but some are kind of interesting and aren't super-common knowledge. For example:
Don't spell numbers.
Use your company's logo.
Use URL-safe characters.
Have friends and family rate your game.
Read the full list here.
David Wolinsky is a freelance writer and a lifelong Chicagoan. In addition to currently serving as IFC's comedy, film, and TV blogger, he's also a comedy-writing instructor for Second City and an adjunct professor in DePaul's College of Computing and Digital Media. (He also co-runs a blog behind the DePaul class, DIY Game Dev.) He was the Chicago city editor for The Onion A.V. Club where he provided in-depth daily coverage of this city's bustling arts/entertainment scene for half a decade. His first career aspirations were to be a game-show host.