Next Thursday, the NHL draft begins in St. Paul, Minnesota.
If you're unfamiliar, the NHL draft is a bit weird. Unless you're bunkered in some cabin in Manitoba with no possible escape, you probably haven't watched a lot of junior hockey. And consider that a good thing. So when you see a raft of Canadian analysts breaking down a 17-year old's backhand, you can't help but feel a little creeped out. How much hockey do these guys watch? Anyway, over the next few days we'll try and break down some prospects the Hawks might have some interest in signing.
But today, we'll just generally study what the Hawks like to do in the draft. We only have one draft where Stan Bowman was calling the shots. But we can glean a couple things from that. First, he's not afraid to wheel and deal, as this was when Versteeg and Byfuglien were sent off into the wind last year, partially to acquire more picks. Look for Stan to try this again, to restock the Rockford pipeline if he can. Especially this year as the Hawks have three second-round picks and two third-round picks, they can get creative if they want.
What about the players Stan likes? Well, strange as it is to say after watching the team he put together here in Chicago, from last year's draft one has to guess that Stan likes size. Of the five skaters he selected in the first three rounds last year, four were above 6-2 and none were below 6-0. They scattered from center to winger to defenseman, but Bowman clearly was trying to beef up what he had. Not suprisingly, considering the year before in which Dale Tallon in his last draft took Byron Froese and Brandon Pirri in the early rounds, both of whom could be called "diminuitive".
What you should also expect is that no one taken in next week's draft will even be in the system in the upcoming season. Only Patrick Kane in the last 10 years has a player the Hawks drafted even gone to their minor league affiliate immediately. That isn't suprising considering he was the top pick and obviously so gifted, and also because most teams like to be patient. That patience is further exacerbated now with teams so fearful of starting a player's contract clock before he can continually contribute at the NHL-level. That's another weird thing about the NHL draft, you see these guys put on their hat and jersey and take their pictures with the staff, and then they're pretty much a whisper for the next two years.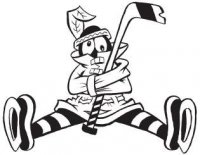 Sam Fels is the proprietor of The Committed Indian, an unofficial program for the Blackhawks. You may have seen him hocking the magazine outside the United Center at Gate 3. The program is also available for purchase online. Fels is a lifelong 'Hawks fan and he also writes for Second City Hockey .