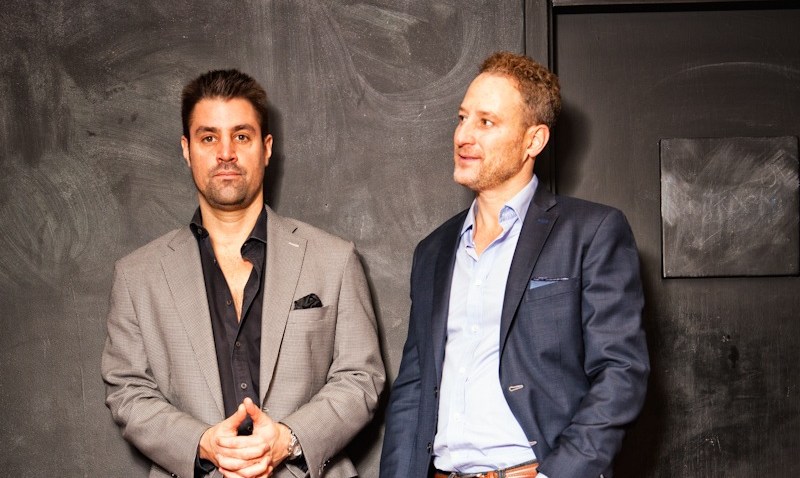 In 10 years, partners Kevin Boehm and Rob Katz have opened five restaurants (with another two under construction), launched a catering company, hired 550 employees, developed a sterling reputation as one of Chicago's pre-eminent restaurant groups and snagged a Michelin star for Boka. I sat down with the dynamic duo for a candid conversation about building a successful business as a team.
What inspired you to create a restaurant company together?
Kevin Boehm: Rob and I had four places independently before we met each other and we both had changed goals. I had been in some mid-level and small towns and Rob had been here in Chicago, but he wanted to get out of the bar and nightclub business and into restaurants. I wanted to get out of these smaller markets and come to Chicago. We were friends of friends and decided to have a cup of coffee together.
Rob Katz: He's lying: We met on eHarmony. We were looking for partners. [Laughs.] No, he's exactly right.
Kevin Boehm: We liked each other instantly and had similar personalities. We said, "What's the worst that could happen with opening one restaurant together?" Our first conversation wasn't about the restaurant group we're going to build and here's how many we're going to do -– that conversation came later.
Rob Katz: And not that much later.
Kevin Boehm: It didn't take long to figure out what we wanted to do.
How were you ready to take the next step so quickly and expand?
Rob Katz: Boka touched a chord right away. We felt that everything that we wanted to do at Boka, we achieved quickly. We realized it was a great partnership and we're both really hungry, motivated guys. Very early on, maybe even before we opened.
There's so much that goes into opening a restaurant before the doors open -- meeting after meeting, the construction, the architecture of what the restaurant will be -- and we realized pretty early on that we'd be doing more than one restaurant. It's in our nature and DNA not to rest on our laurels and sit still.
How has your partnership evolved from launching one restaurant to overseeing six unique concepts?
Kevin Boehm: What we do on a daily basis is different. At the beginning, Rob and I just wrapped our arms around Boka and the operations.
Rob Katz: We took ownership of every aspect of the restaurant.
Kevin Boehm: It was more micro back then. We had one restaurant. Every day Rob and I managed Boka and turned it into the best restaurant we possibly could. It's a completely different situation now. Our days start earlier. We're in the office by 8:30 in the morning and the most important things we do nowadays happen between 8:30 and 6 p.m., not 5 p.m. and midnight. Rob and I spent a lot more time on the floors of our restaurant back then -- and we still do -- but we spend a great deal more of our time together in a business office working on development and systems, then in the actual restaurants.
It's a great evolution and where you hope to get to -- where you're not always closing the restaurants at 2 a.m. and living with those hours, but do you miss the energy and excitement of working the restaurant hours?
Rob Katz: We're going to speak differently here. I do not miss it. I don't. I love the luxury, if you will, of what we've earned, of working so hard for so many years, of having these great restaurants and this great team we have. I'm very proud. When we walk into the restaurants now, I do like it a lot. As we like to say: kissing babies, shaking hands.
At the end of the day, I personally am considered an old guy in this business at 45 years old. It's an exhausting business. Kevin and I have punched the clock for more than 20 years each. I have not, in 24 years, taken off a New Year's Eve. I believe this will be my very first in 24 years to spend with my wife and my family.
So when you ask if we miss it, we have the best of all worlds right now. We're very lucky. We can come into our restaurants, we can be effective, we can be visible, we can see what's going on, but at the end of the day we have such an amazing team that we're cultivating together with Ian Goldberg, our vice president of the company, all the way down to our great general managers and of course, our chef partners. We both feel comfortable in the position we're in right now.
Kevin Boehm: I've walked and worked dining rooms for 20 years. It's what I've done my entire life. And with anything, if you do the same exact thing over again every single year, it gets to be a bit stale. I'm glad my life is different. I'm glad we have a number of different restaurants and a number of different partners to work with. It keeps it exciting and it keeps it fresh.
Rob Katz: It's also an evolution. That's a natural evolution for what we are. Shame on us if we didn't evolve.
Kevin Boehm: But I do enjoy, when we open up a restaurant, building a staff with the team, training that staff, jumping in the foxhole with them when you open up the restaurant because it's exactly like a foxhole: everybody worried together about that common goal. Is it going to resonate with the public? What will reviews be like? Sitting at home in front of my computer at one in the morning refreshing the Chicago Tribune website until the review comes out. All that sort of stuff: I still love that excitement level. I just can't be in my restaurant six nights a week from open to close, it just can't be a part of my life anymore. It has to be everything in moderation.
Rob Katz: A part of that is juggling. I think everyone in the world has to find a balance. We have children, we have wives, all these things that we have to find a balance to do all this. I think Kevin and I both feel some queasiness, or discomfort, that we still feel every single day in our bellies because you never just rest on your laurels or upon your success. Again, it's the nature of who we are.
People look at our little group now and it's become something more than just little. But Kevin and I -- just like everybody -- struggled and fought and scratched and clawed to get where we are. Even together, we've been in this partnership for 10 years. A lot has happened in those 10 years. We've gone from 40 employees to 550 employees.
Kevin Boehm: It's been hard. There's nothing that's been easy about the road. We've been fortunate, but fortunate and easy aren't the same thing. I've been sick to my stomach all week – I really have – because there's so much going on and there's so much competing for my attention and for Rob's attention right now that sometimes it gets overwhelming. I'm not complaining, I'm just saying the reality of opening five restaurants in 22 months has been pretty overwhelming and hard.
Chicago's dining scene is crowded with restaurant groups. How did you differentiate Boka?
Kevin Boehm: We are a chef-driven restaurant group. We are, I believe, the only restaurant group right now in America that has three Food & Wine Best New Chefs that work under the umbrella. Paul Virant, Stephanie Izard and Giuseppe Tentori all won the award in the last four years. We build concepts around chefs who we believe have a signature voice. I always make up this analogy that when you turn on the radio and hear an Axl Rose or Michael McDonald, you instantly know who the voice is. Regardless of the song, you know who they are. We look for chefs that when you taste their food, you know it's them. I definitely feel like Giuseppe, Stephanie, Paul and Chris Pandel are all those kind of chefs. When you look at the way that they plate to the way that their food tastes to their genre of food, it speaks to them. That's how our restaurants get the identity behind them and it makes us different.
How do you avoid falling in the trap of doing what's trendy or expected?
Rob Katz: People thought we were crazy when we said we were doing a seafood restaurant. But I grew up on the Pacific Northwest and Kevin spent so much time on the water. We just love fish. So we did that because were passionate about it and knew it could succeed here.
When we opened Boka, people thought we were crazy. "You can't put food like this in Lincoln Park, no one's going to ever come here." There is something that has become trendy so we're not going to lead the way on it, but it fits perfectly for us.
In a competitive business, your properties have been consistently well reviewed and award-winning. In other words, there are a lot of envious people out there who might not want to see you succeed so visibly. How does that impact your business approach on a daily basis?
Kevin Boehm: The way that the whole world is set up now is that they love you when you're the underdog and then they build you up and tear you down. As a person, you have to take a look at what people write and what people say and you can only be so emotional about it. Let me back up. At a certain point, you have to know what you're doing is good and respond to how you feel about it. At a certain point, if you get big enough, you're going to have detractors. It's a fact of life. It's the way that this world works these days and you can't get too emotional about it.
Rob Katz: But they love the comeback. So they'll knock us right down to the ground and cheer us as we get up.
Kevin Boehm: John Travolta.
Rob Katz: Robert Downey Jr.
Kevin Boehm: Be consistent, work hard, be honest, be good to your employees and good things will happen. You'll have detractors if you're successful.
But knowing this undercurrent of jealousy exists and people have you under a microscope, does that change the way you do business?
Rob Katz: Because we're under the microscope, we're a little more visible now than we used to be. That's odd to me, personally, getting used to that whole situation. I think I'm cognizant of that whole situation and needing to be respectful to everyone.
What advice would you offer to aspiring entrepreneurs who want to forge a business partnership?
Rob Katz: Choose your partner carefully. Someone can seem like a perfect fit on paper, but you have to like the person you're in business with and want to spend time with them. You need to want to work together. At the end of the day, continuously good partnerships work harmoniously.
Kevin Boehm: You don't have to be similar people, but you need to have a similar goal. You can't have one person out for fame and celebrity and the other person out for money. You should also outline your goals and if they're not similar, it won't work. Sometimes young people will jump at the first opportunity because they're hungry and say, "I'll do it." But you need to do your homework before you get in bed with someone and become partners. Exhaust your avenues. Even if the business fails, you can still be partners for 20 years.
Looking back, what has been the biggest challenge of your partnership and how did you overcome it?
Kevin Boehm: Rob's jealousy of my hair. [Laughs.]
Rob Katz: Good things come out of spirited discussions. We will put our foot down, although normally we talk it through and have the same vision, goal or idea. What if one of us was passionate about Polish perogies and the other person wanted a Korean BBQ restaurant? So far that hasn't happened.
Kevin Boehm: We don't dig our heels in much. But if you feel that strongly, go ahead. It's never come down to a vote for us. Not even once. It's a testament to the partnership.
Rachel Gillman has an insatiable appetite for dining out and an obsession with the restaurant industry. She's also fascinated by entrepreneurs and enjoys uncovering the story behind building a business from scratch. You can follow her on Twitter @RachelGillman.