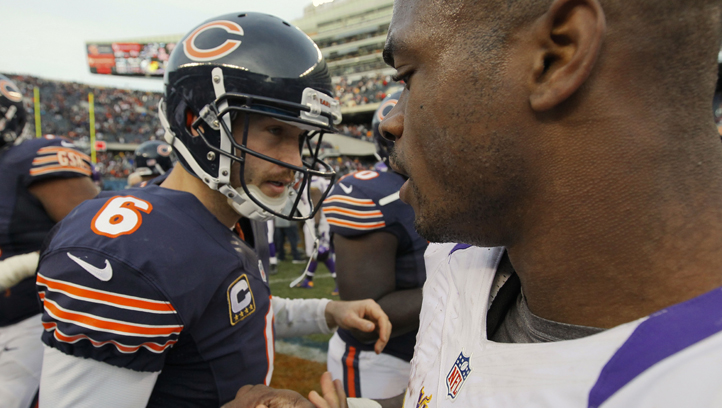 The arrival of NFL MVP Adrian Peterson at Soldier Field on Sunday caused a new term to be coined in Chicago -- Population Tackling.
"Our defense will have their hands full," cornerback Charles Tillman explained. "He's a guy who makes you play team football. You can't just have one guy tackle him, we want a population tackle."
Head Coach Marc Trestman suggested everyone in the stands at Soldier Field come down and help bring down Peterson -- sort of!
"Every time he touches the ball he feels like it may be the last time he touches a football again," Trestman said of Peterson, who can reach 9,000 rushing yards Sunday if he gets 58 against the Bears.
Peterson can make it happen on one play.
Last week Peterson rushed for 78 yards and a touchdown on his first run of the season.
Last year, in week 14 against the Bears, A.P. gashed Chicago for 104 yards and two touchdowns in the first quarter alone. And in 2007 the Norseman running back was a rookie when he rushed for 224 yards at Soldier Field -- the most allowed by the Bears all time.
Marc Trestman said you just have to concede that he is going to have a big run here or there.
But Bears defensive coordinator Mel Tucker said tackling has been a point of emphasis all week, something that has been difficult to execute when it's not practiced in training camp or practices.
"Everyone has to do their job," Tucker said. "Every time he gets the ball he can go the distance... it's a matter of technique and fundamentals."
Tillman says Peterson is in a league of his own.
"Another elite player in this game, definitely the MVP for a reason last year," he said.
Population tackling indeed.