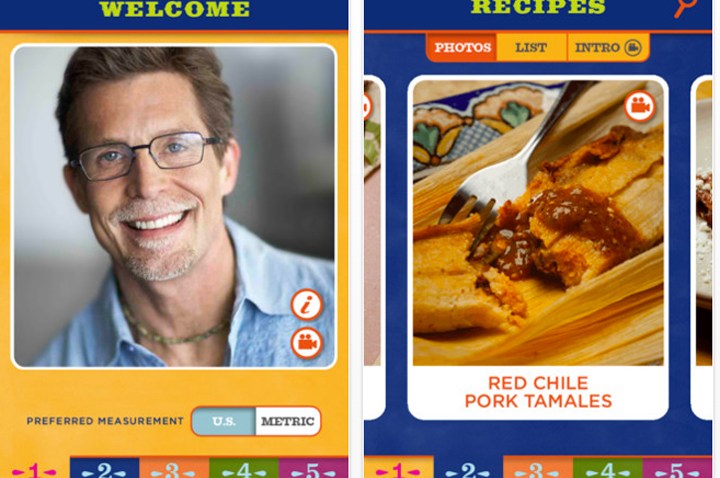 Proud resident of Chicago. Lover of food. Entrepreneur. Three qualities I hold dear, as does internationally renowned chef and restaurateur Rick Bayless.

As if stellar eateries, a popular syndicated cooking show, widely available foods on store shelves, and a musical dinner theater show aren't enough, Bayless now has -- you guessed it -- an iPhone app. In it, he showcases what he calls his "Mexican Essentials," broken up into course-like categories: starters, light meals, dinners, basics and sweets.
It's quite well-made, and it's obvious that serious thought went into its production. Style points for an easy-to-navigate interface, fine graphics and photography, and plenty of bells and whistles, like email-able recipes and multimedia content for most of the dishes.
You may scoff at the "high" $2.99 price tag, but consider the cost of cookbooks. This app is less than most, and, frankly, a heck of a lot handier in the kitchen while I'm pretending to be Bayless. Although, ask me again when I spill a bunch of molten queso on my phone.
Recipes and ingredients can be displayed as pages with titles (with a lovely photo of the dish to boot), or as an easy-to-flick list. Once you click through, each recipe is shown similar to those in his books, except this time technology allows for some likeable features. Ingredients -- especially those that are unfamiliar -- can be easily cross-referenced. What's more, if a certain Mexican delight or ingredient tickles your taste buds, favorite it for later, or send it over to your shopping list, where the quantities and ingredients magically appear in a list. Handy.
Muy especial: If you're having trouble understanding a particular part of a recipe, there are a ton of related videos to show you how to properly roast a poblano, reheat corn tortillas and virtually any of basics. This really drives home the "essentials" part of the app's title.
While there are no significant gripes, it is heavy with Bayless branding. Not quite as over-the-top as, say, Oprah in general, but the app itself appears as Rick Bayless on your home screen, with a photo of his head as the icon. Load it up and another Bayless headshot appears, welcoming you to this cooking adventure. He's excited to have you, and I believe him, as he's always excited. It's strangely intoxicating, actually, if not ever-so-slightly creepy.
Shawn Smith (aka - Shawnimal) is the owner and creator of Chicago-based friend factory Shawnimals. He's a serial creative, and spends too much time in his own kitchen, or at the plethora of restaurants, bars and coffee shops in his home-neighborhood of Logan Square. View his lovely craziness at Shawnimals.com and Ninjatown.com.