You may not think an apartment-search website would find much use for social media.
But at
domu
, we find social media is practical for listening to our audience and having a fun conversation. We use
Facebook
and
Twitter
as our primary social media outlets because these sites have the most users, and the most active users. But Facebook and Twitter are very different, so we have to approach them differently to interact with their users. We'll start with strategies we believe are true for all platforms and then break it down for each site.
Good practice
Be a person, not a company. People want to talk with real people. Companies with a strong social media presence like Southwest Airlines, Threadless and Starbucks feature a unique voice and an inviting personality. If you'd like to bring more personality, give the name of the person who's tweeting and respond to Facebook comments with a first name.
Be informative and relevant. Give people a reason to follow you. Share interesting and useful links. Make it fun and simple, not salesy and pushy.
Listen. Social media works best when you have a conversation, not when it's a one-way street. Respond when people write on your wall or mention you. Those little things create a good relationship with your audience. Enjoy the praise and embrace the criticism. It means you have room to grow and that people care.
What works well on Facebook
With more than 500 million users, Facebook is the leader of social-media sites. It's a great place to share links and photos, interact with your fans and give your brand personality.
To beef up our numbers on Facebook, we ran a
free rent contest
on our Facebook page. To enter, users had to "like" our page and complete an entry form. People shared the contest on Facebook and Twitter, and our page awareness increased.
Facebook Questions
is the newest feature we like to use. It's basically a quick poll that can spread quickly. When people answer, their response and a link to the question appears on their profile and in their friends' News Feed. To keep a good balance, we ask apartment-related questions and general questions about Chicago.
Don't overdo it on Facebook. We only post once or twice a day and find sharing a link or asking a question in the morning does the job.
How we maximize Twitter
Twitter is a fantastic way to see what people are saying about you in real time.
We provide useful information to our followers. We tweet listings, blog posts, apartment hunting tips, and entries from our
Chicago history map
. From time to time, we reach out to people who are searching and tell them about the site.
We use
CoTweet
as our Twitter client. We like it because it lets us easily see our mentions and direct messages in the inbox, and we can track conversations we've had with every user. We use search filters to see who's talking about the topic that matters to us: Chicago apartments. It's important to find your niche, and using search filters is a great way to do that.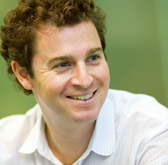 Noah Schatz is a successful real estate investor in the Chicago area who runs Schatz Investments and Domu.com, a clever listings service for renting apartments.