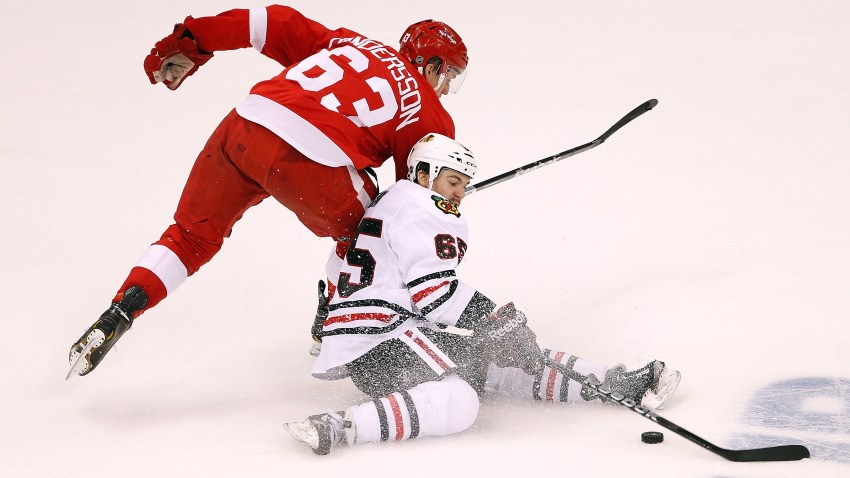 Much ado has been made lately of the fact that the Chicago Blackhawks have not lost more than two games in a row this season. In fact, they only lost two consecutive games in regulation twice this season, making the team's Game 2 and Game 3 losses to the Detroit Red Wings even more uncommon.
The question, then, is how have the Blackhawks reacted to consecutive losses this season?
Here's a breakdown:
Jan. 30 and Feb. 1: Two consecutive shootout losses to the Wild and Canucks
How The Hawks Reacted: They reeled off four straight victories, including a 6-2 thrashing of the Phoenix Coyotes and a 3-0 shutout of the Nashville Predators, their first shutout since April 2011.
March 8 and 10: Two straight regulation losses to the Avalanche and Oilers
How The Hawks Reacted: They won three straight games, including an 8-1 beatdown of the Dallas Stars and a 5-2 revenge-driven stomping of the Avalanche in Denver.
March 20 and 25: Two straight regulation losses (and third period meltdowns) against the Ducks and Kings.
How the Hawks Reacted: A nice shutout win over the Flames, and then following another late loss to the Ducks, they destroyed the Red Wings 7-1 in the Motor City.
April 20 and 22: A shootout loss to the Coyotes and a 3-1 loss to the Canucks
How the Hawks Reacted: Wins over the Oilers and Flames by a combined 7-2 margin, which clinched the President's Trophy.
As the Hawks have shown this season, they apparently don't take too kindly to losing consecutive games. The set among these to really pay attention to are the losses to the Ducks and Kings. At that point in the season, questions began to be asked about whether the team had what it took to close out games, and they responded with arguably their most impressive offensive effort of the season against the Red Wings on national TV.
If the Hawks are going to get back into this series, then they are going to need a similar effort against the Wings in Game 4. It's put up or shut up time for the Hawks, and as they have shown this year, they are more than capable of putting up a crooked number in a hurry.