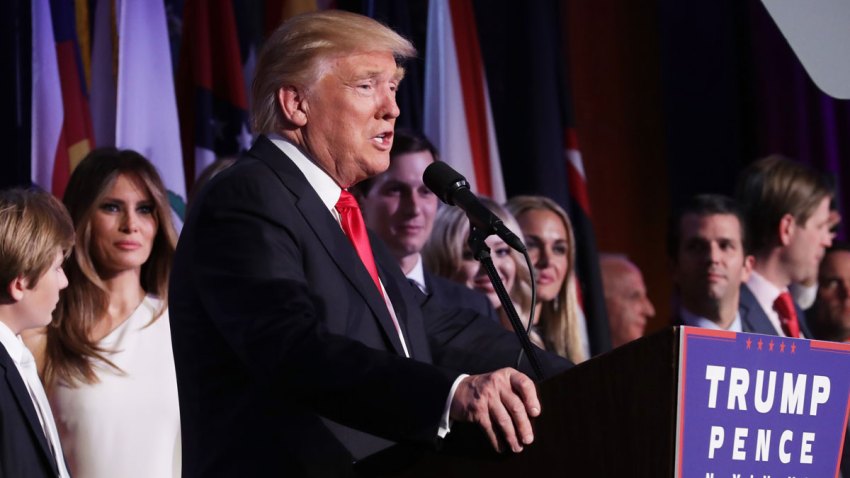 Donald Trump scored a surprise victory in the presidential election Tuesday, but what might that mean for Chicagoans in a city frequently discussed during his campaign?
In the lead-up to the election, Trump repeatedly bemoaned Chicago's crime statistics, vowing to use controversial policing tactics to bring down the murder rate and restore a sense of "law and order." Chicago has seen 666 homicides this year, according to the Chicago Tribune. In all of 2015, the city only had 492 homicides.
In a September interview with Fox News, the president-elect championed the use of stop-and-frisk in Chicago, backing off his original plan to implement the controversial tactic nationwide. The method, which was ruled unconstitutional in New York in 2013, allows police officers to stop and frisk individuals for weapons or contraband without a warrant.
"I see what's going on in Chicago, I think stop-and-frisk," Trump said during the interview. "In New York City it was so incredible, the way it worked."
The American Civil Liberties Union issued a report last year, citing a disproportionate targeting of blacks in stop-and-frisk cases. That report showed that African-Americans, who account for less than one-third of Chicago residents, represented more than 70 percent of street stops in the city. The ACLU ultimately pushed the Chicago Police Department to revise their policy.
Ed Yohnka, director of communications and public policy at ACLU Illinois, explained that Trump's election doesn't change constitutional requirements, namely the Fourth Amendment, which protects against unreasonable searches and seizures.
"The City of Chicago and the CPD will still be required to comply with the Fourth Amendment of the Constitution — no matter who is President of the United States," Yohnka told Ward Room Wednesday.
In an August interview with Fox News, Trump claimed Chicago police could stop the violence "if they were given the authority to do it." The Republican explained that he spoke to a "top police officer" in the department who told him the city's crime problems could be fixed in a week.
The CPD has since discredited the claim, denying that any senior officer met with Trump or his campaign. Nevertheless, Chicago's Fraternal Order of Police Lodge 7 endorsed Trump's candidacy in October, following the National Fraternal Order of Police's lead.
In an August speech obtained by Politico, Trump also put forth a plan to deport millions of "criminal aliens." Additionally, he promised to triple the number of U.S. Immigration and Customs Enforcement agents. Critics feared Trump's immigration policy could destabilize sanctuary cities like Chicago. However, the billionaire backed off a plan to forcibly deport roughly 11 million undocumented immigrants during the same speech.
Republican National Committee Chairman Reince Priebus defended Trump's immigration policy on MSNBC Wednesday.
"He's not calling for mass deportation," Priebus said. "He wants to protect the sovereignty of America and be a friendly partner with the rest of the world."
Yohnka claimed Trump's plan would be a "tremendous disruption" for some Chicagoans, but said it was unclear.
"While there has been talk about this issue, there is not a specific proposal for how this might be addressed by the federal government," Yohnka added.
Last month, the Chicago City Council voted to remove a street sign honoring Trump's downtown skyscraper as a response to the president-elect's incendiary rhetoric and comments about the city's violence.
On Wednesday, Mayor Rahm Emanuel said he wasn't worried about retribution from Trump, the Chicago Tribune reports.
"I'm not sure President-elect Trump will listen to me, but I would say that you're president for all of America, and that includes your third-largest city in the country," Emanuel told reporters.
But some aldermen are concerned that Trump will cut federal funding for infrastructure and other projects.
"We're in trouble," Ald. Emma Mitts told the Tribune. "Infrastructure, any funding that's coming that they have control over (is in jeopardy.) Democrats are in trouble."
"With Trump and Rauner together, you bet they'll get even," Mitts added.
Still, a CNBC analysis finds that a yearslong standoff between two different approaches in the American economy could finally come to an end during Trump's election. Now that Republicans will control the White House and both houses of Congress, the standoff could be over, and that means Trump could be a massive force for good for the U.S. economy.
Trump's campaign and the CPD did not immediately respond to Ward Room's request for comment on this story.