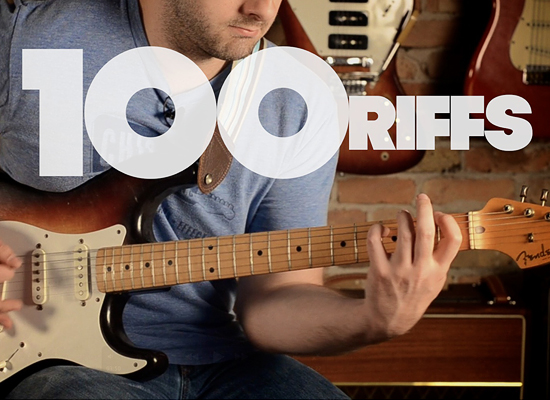 This summer, Chicago Music Exchange benefitted from the power of viral video.
If you logged onto Facebook recently, you probably saw the segment: a dude with a Stratocaster and baseball cap, burning through licks by everyone from Chet Atkins to St. Vincent. The video, "100 Riffs (A Brief History of Rock N' Roll)," stars Chicago Music Exchange Sales Manager Alex Chadwick, who, in a mere 10 minutes, blazes through 100 famous guitar parts without hitting a bum note or breaking a sweat. The segment has gotten more than 3.2 million views since it was uploaded to YouTube in early June.
Chicago Music Exchange owner David Kalt credited the video's success to "a good video crew" and, even more, Chadwick's talent. Kalt noted that "100 Riffs" has attracted thousands of new customers to the Chicago-based guitar dealership's store and website, creating what he called "a nice uptick in sales." Chadwick has also become a semi-famous viral-video star. Since the video's launch, he's been courted by several radio stations, magazines and websites for interviews.
"It's been a lot of fun, and it seems to have drawn a lot of attention to our shop, which is great," he said.
Kalt's original goals for the project were modest. He said he wanted the video to show off his sales manager's talent while spotlighting "the versatility of a [Fender] Stratocaster with one amp and a handful of pedals." He challenged his sales staff to come up with a video for 100 riffs, and Chadwick stepped up.
The video also served as a brand-building exercise for Chicago Music Exchange, which carries the tag line "be inspired."
"We wanted to make a video that inspired musicians," Kalt added. "We are in the business of tone, and I think musicians of all styles can appreciate how Alex was able to effortlessly achieve so much tone in 12 minutes."
Zach Phillips is a journalist, business writer, novelist and singer-songwriter. He's also the editor of Music Inc. magazine, which reports on the musical instrument industry.