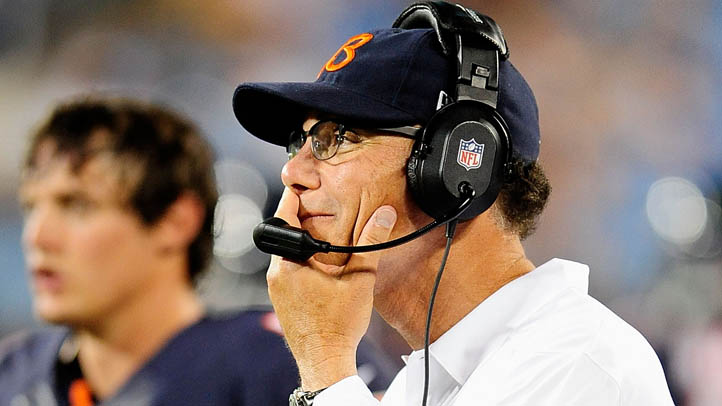 Although the temptation is there for some Chicago Bears fans to dismiss the 0-2 Pittsburgh Steelers as the team's Sunday Night Football matchup looms, Marc Trestman and the Bears are certainly not doing that.
The Steelers present a unique challenge to the Bears despite the injury concerns that are plaguing their offense. Defensively, the Steelers are still a dangerous team, employing a 3-4 gameplan (three defensive linemen, four linebackers) that is radically different from the 4-3 that the Bears faced in the first two weeks of the season.
Even still, Trestman has a way of combating that, as he told Michael C. Wright of ESPN Chicago Wednesday afternoon:
"They're different than what we're used to facing. They're coming from everywhere. They do it a lot of different ways. They've got size at their linebacker. The unusual aspect of having size at their linebacker positions where they're pass rushers, they represent matchup issues for our backs,
particularly our backs. So we've got a formula for picking up blitzes, and things change a little bit with 3-4. But we've had a lot of work against it. I spent time on it in our OTAs, a little bit of time at training camp. We played against a 3-4 team in the preseason, which helped. Certainly there's
nothing like going against the Steeler 3-4. It's very good conceptually. It's structured."
Leaving aside the perpetually mind-blowing notion that the Bears have a coach with the high-minded approach of a philosophy professor, what Trestman said here is particularly interesting. He pointed to the Bears' blocking schemes and how their running backs aren't particularly effective in providing protection to Jay Cutler, but did say that the Bears have a plan against it.
Ideally, that plan would include Tony Fiammetta, the fullback from Syracuse that the Bears brought in to replace Evan Rodriguez in the offseason. His size and foot speed (which he was praised for when he played for the Dallas Cowboys and was clearing room for DeMarco Murray) are both great attributes against a Pittsburgh defense that is willing to throw different looks at an offensive line with two rookies on the right side, and could be part of the strategy that Trestman alluded to.
In addition to that added pass protection, it is going to fall on Cutler to sniff out the Steelers' defensive schemes and to make adjustments to his approach. Jermaine Gresham was the leading receiver for the Cincinnati Bengals when they beat the Steelers in Week 2, but overall it was still a slog for the Bengals as they only averaged 3.7 yards per carry on the ground and 6.2 yards per passing play through the air.
AJ Green was targeted 14 times in the game, but only caught six passes for 41 yards, with his longest reception clocking in at 10 yards.
What that means for the Bears is that Cutler is going to have to make smart reads on his progressions, because the Steelers will likely key on Brandon Marshall and force Cutler to spread the ball around. Having Martellus Bennett helps, as he was dominant out of the slot against the Vikings in Week 2 (he had 4 catches and a TD in that spot), but look for Alshon Jeffrey to get a bunch of looks in Sunday's contest as well.
Ultimately, it will be the blocking that will have the biggest effect on whether or not the Bears are able to cope with Pittsburgh's unique defense. Kyle Long and Jordan Mills have looked very solid against more traditional defensive schemes, but with the wrinkles that the Steelers are able to throw at an offensive line, the two rookies will have to be at their best in order to cope with it. Their ability or inability to do so will go a long way towards determining whether the Bears head into Detroit next week with a 3-0 record, or looking to bounce back from a nationally televised loss.