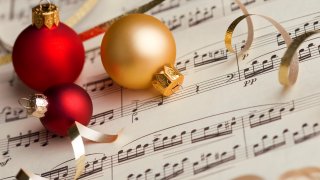 Haul out the holly! A local Chicago radio station will soon be playing non-stop Christmas music in anticipation for the holiday season.
Chicago's 93.9 LITE FM is advertising a "major Christmas music announcement" set for 8:20 a.m. Tuesday. The station recently updated the logo on its website and social media pages with some red and green flare.
In 2020, 93.9 started playing holiday music non-stop Nov. 6 to spread holiday cheer during the pandemic.
"After a year like 2020, we need Holiday music more than ever," Mick Lee, program director and on-air personality for iHeartMedia Chicago, said in a statement.
Lee said the station can't wait to celebrate its 21st year as "Chicago's Christmas Music Station."
"We hope you'll be listening! HO HO HO!" he said.