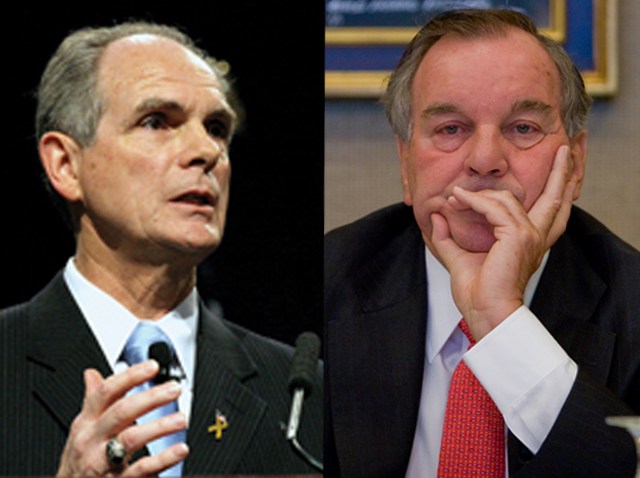 The NHL Western Conference Finals between the Sharks and Blackhawks begins at high noon Sunday at the HP Pavilion.

As customary in these sporting situations, the political big wigs are making a "friendly" wager on the series outcome.

Mayor Richard Daley and San Jose Mayor Chuck Reed both put up swag baskets filled with their perspective city's finest foods.
Daley even upped the ante by offering lamb chops and steaks from Harry Caray's.
Here is what Chicago is offering:
Kim & Scott's Pretzels
Harry Caray's Restaurant
Al's Beef
Terry's Toffee
Vitner's Chips
Windy City Soda
Billy Goat Tavern
World's Finest Chocolate
Abundance Bakery
Connie's Pizza
Vienna Beef
Azteca Products
Garrett Popcorn Shops
Golden Dragon Fortune
Cookies
Half Acre Brewery
Robinson's Ribs
Illinois Specialty Cut Flowers
BJ's Market
Eli's Cheesecake
And here's what San Jose is putting on the table:
Chiaramonte's Deli and Sausages
Eggo waffles -- note that the Eggo waffle was invented in San Jose in the 1930s and is manufactured in San Jose.
Eulipia Restaurant
Gordon Biersch Brewing Company
Greenlee's Bakery
J. Lohr Wines
Joseph George Wines
La Victoria Taqueria
San Pedro Square Urban Market
Schurra's Candy
Shuei-Do Manju Shop
Various San Jose Farmer's Market vendors, including: Calolea California Virgin Olive Oil and Balsamic Vinegar; Mayberry Workshop Custom Apparel; R&J Toffees; Small Bees Honey; and Teagré Tea.