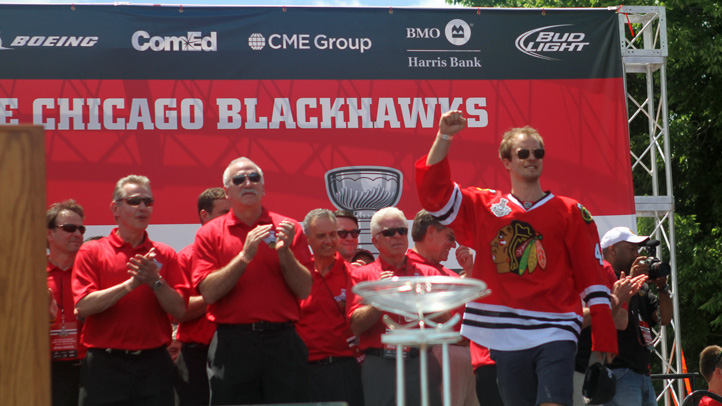 For the Chicago Blackhawks, the summer of 2013 has been one of both celebration and retooling after winning their second Stanley Cup championship in four seasons. For defenseman Niklas Hjalmarsson, however, the emphasis has been more on celebrating, first with his marriage in July and now with his freshly signed five-year extension with the Hawks.
"It's been an unbelievable summer and it's going to be tough to top this one," Hjalmarsson told the media during a conference call on Wednesday morning. "I'm really excited with the extension here, and am really looking forward to next season, and my wife and I can't wait to spend the next six years here."
Despite the celebrations, however, Hjalmarsson knows that Stanley Cup hangover is a very real phenomenon, and is eager to help the team to avoid a similar sluggish start to the one they had in the fall of 2010.
"We've still got a lot of guys left from last year, so we can't really complain about anything," Hjalmarsson said. "We have pretty much the same team, and I think the guys are going to be focused on having a better start than we did the last time we won. It took 25 games or so to start playing good hockey, so it's something we need to focus on, and be ready when the puck drops."
GM Stan Bowman agreed with Hjalmarsson's assessment of what the team needs to focus on with the season less than a month away.
"The players are aware of what we went through last time, and they're committed to making sure we start the season better," he said. "Nothing is easy in the NHL. Nobody's going to be handing us victories."
Bowman also is clear that his focus isn't on enjoying the last moments of summer break before training camp starts next week, and he also had nothing but praise for the 26-year old Hjalmarsson.
"Part of the plan is determining which players are key and critical to the success of your team and making sure you have them for a long time," Bowman said. "I think for our team, having stability on defense really gets our team game in order. I'm very optimistic in our young players, but we don't need to rush them. Some of the young guys are going to push the veterans to be better, and I think that's good."
Ultimately though, the day was about Hjalmarsson's extension, and Bowman was quick to praise the stay-at-home defenseman that he clearly feels is critical to the team's success.
"He is a heart and soul guy," Bowman said. "He's very relied upon by our coaching staff, and they trust him. He's improving every year, and I think he'll continue to do so. It was easy to commit to him, because he's a warrior."
As for Hjalmarsson, he doesn't seem to be content to just rest on his laurels either, but he isn't going to try to add elements to his game that don't come naturally to him.
"Obviously, you want to try to create more chances and get more points, but you have to stick with what you're good at," he said. "I know I'm strong at the defensive end. I had a good year playing with Johnny (Oduya) and hopefully I can continue to do what I did last year. I don't need to be someone else or force stuff that I don't have."
It's that kind of self-assured play that NHL GM's seek so aggressively, and in Bowman's case, he certainly recognizes it in Hjalmarsson.
"When you find good players, you have to keep them," Bowman said. "These are important players, and Niklas plays a critical role on our defense, and it's hard to find guys like him. You can sort the rest out later."