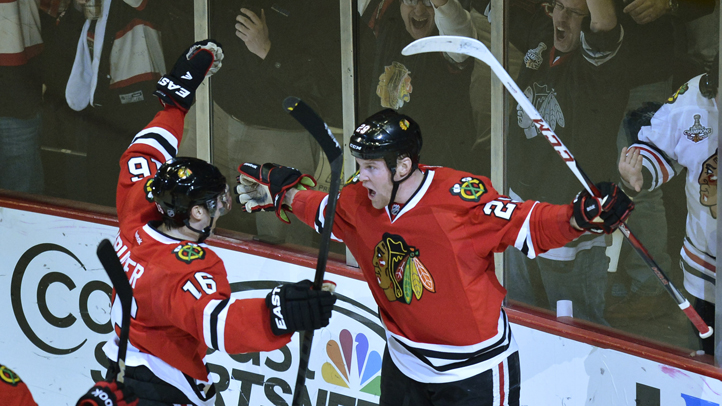 The term "special teams" is a common one in a certain sport, but there may not be a group more deserving of the moniker than the penalty killing unit of the Chicago Blackhawks.
Looking short term, their penalty killing unit has been downright filthy against the Minnesota Wild, and Tuesday night was a fantastic example of that. In the game, the Wild had SIX power plays against the Blackhawks. Not only did they not score on any of them, but they only managed to get seven shots against Corey Crawford in that span.
Blocking a slew of shots like the Hawks did on Tuesday helps, but their overall aggressive approach to attacking the puck carrier with their wingers and clogging up the middle of the ice with their defenders has worked to perfection in the first four games of this series.
Bigger picture, the impact of this group of Hawks on the team's success is even more staggering.
Since March 18th, the Hawks have killed off an incredible 60 out of 62 power plays that their opponents have gotten against them. For those of you keeping track at home, that is a 97% success rate, and, needless to say, it has helped the Hawks to a 16-5-3 record over that time span, and helped the team secure its first President's Trophy in over 20 years.
So who have been the key contributors to this success? Niklas Hjalmarsson averaged 2:42 of ice time shorthanded during the regular season, and in the playoffs, he has been even more incredible, averaging nearly four minutes of ice time in those situations. Fellow Swede Marcus Kruger has also been dynamite in this area, averaging 2:30 during the regular season and 3:57 during the postseason. Finally, Duncan Keith has also been lights out against the Wild, averaging 3:53 of ice time so far during the playoffs.
The great mix of looks that the Blackhawks give opposing teams when they are a man short is what helps those guys to the performances that they have delivered. Kruger has a great eye for knowing when to attack and when to sit back and anticipate puck movement, and Frolik has shown some lightning quick moves in the defensive zone. Meanwhile, Hjalmarsson and Keith are great at forcing their opponents into low percentage shots. They have also improved on clearing traffic in front of the net, although there have been several instances in this series when that part of their strategy has broken down.
Just as a point of reference, the 2010 Stanley Cup champion Blackhawks were successful 83.3% of the time, good for a tie for fifth in the league in those playoffs. The Boston Bruins killed 84.4% of penalties during their 2011 Cup run, and the Los Angeles Kings killed off an outstanding 92.1% of their penalties in 2012.
The Hawks will obviously not go through the playoffs unscathed in this category, but when push comes to shove, the penalty killing unit has been a point of strength for them all season long, and it will prove to be the backbone of their game if they are to win another Cup title in 2013.