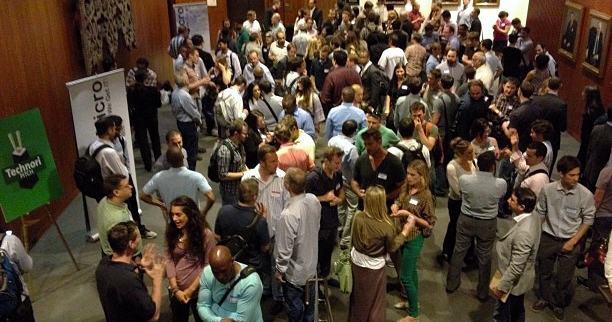 On a warm Tuesday night, representatives from five different young companies took Chase Auditorium's stage. Five entrepreneurs each gave five-minute presentations. Five minutes to impress an audience of 500. It was Technori Pitch.
The evening kicked off with a keynote by Nick Kokonas, founder of famed Chicago restaurants Aviary, Next and Alinea, describing a beautiful bit of technology innovation: ticketing for restaurants.
Nick decided it didn't make sense to pay three people a combined $160,000 per year to answer the phone and tell people "sorry, we're booked." So, he built a restaurant ticketing system and sold $3.5 million in around 10 seconds. Nick set the table for the entrepreneurs that followed.
Tempo
"Big data" is getting bigger all the time and harder for businesses to manage, especially now that there are 50 billion connected devices in the world. Tempo helps businesses store, visualize and analyze their massive streams of time-series data like network data or data from sensors. And Tempo already has some traction: It's a 5-year-old business with angel funding.
OpenAirplane
The airplane rental industry is not user-friendly. It's hard for the 600,000 pilots in the U.S. to rent a small plane. But Rod Rakic's OpenAirplane solves the problem for this $1.2 billion industry by making renting a plane as easy as renting a car. OpenAirplane is already taking off. More than 2,500 pilots have signed up so far.
Result.ly
Recommendations, auctions, daily deals, and mobile and social data are all moving too quickly for search engines, which first must crawl, then index everything they find. Compared to the speed of Result.ly, search engines really do crawl. This new approach to search has visitors specify what they're looking for, then it serves up matches in real time.
KlutchClub
Next, Julie Bashkin introduced KLUTCHclub and explained how her 5000-plus subscribers receive a box each month. Each box is filled with $50+ worth of wellness and fitness products. It's both a healthy lifestyle choice for members and a targeted promotion for brands. Julie turned the pitch itself into a promotion, providing boxes to people who tweeted to @KLUTCHclub. Clever.
PhilterIt
The final pitch solves a problem we all have: email chaos. PhilterIt sorts it out. CEO Avi Levine explained how visual icons and automatic sorting can make your inbox look like your iPhone screen. Personal emails, newsletters, bills, receipts and deals all in their place. Looks good. PhilterIt is currently available for Gmail, AOL and Yahoo!
Andy Crestodina is the Strategic Director of Orbit Media, a web development company in Chicago. You can find Andy on Google+, on Twitter and sometimes at Chicago tech events like Technori Pitch