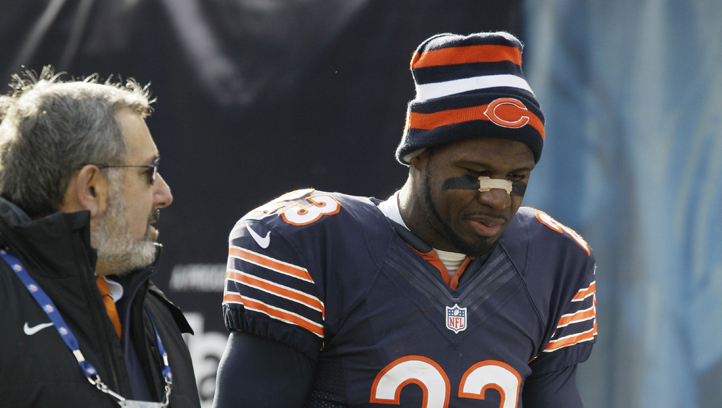 Bears wide receiver and kick returner Devin Hester has been ruled out for Sunday's game against the Seahawks.
Hester left Sunday's game against the Vikings with a concussion. He has not been at Halas Hall all week. The Bears typically hold players out one game after a concussion, as they did with Jay Cutler and defensive end Shea McClellin.
Devin Hester has 873 combined yards this season, 203 yards receiving and 459 yard on kick returns, 207 yards returning punts.
Hester already ownes the NFL's all time record for career kick return touchdowns (17) and career punt return touchdowns (12) and is one return touchdown away from tying Hall of Famer Deion Sanders for most career return touchdowns.
Hester, though, hasn't posed much of a threat this year.
His decision making led to his being benched once already this season on returns. Last week he had one punt return for 6 yards, with no kickoff returns. With opponents kicking short to avoid a Hester break out run, Eric Weems set up deep last week, with Hester as a short return man. Weems also stepped in for Hester at wide receiver (1 catch 9 yards) and will do the same again this Sunday with Hester out.
Weems could turn heads returning kicks. He signed a three year deal with the Bears last March and was a Pro Bowl returner with the Falcons in 2010.
"It was good to get him in there last week" Dave Toub said, "kind of knock the dust off a little bit, I expect him to be a lot better this week, to take more of a jump & hit the ball faster up the field."
Weems is excited about the opportunity, sometimes too excited on gameday!
"In practices he's a little bit quieter" Toub said of Weems an undrafted free agent out of Bethune-Cookman, "at gameday you got to almost calm him down, he's a fun guy to be around."