Those of you in the Chicago area probably felt it Monday: the first real crisp air of fall

I know, it's still summer, and there will be many more warm days before the real chill sets in. But we all felt it. And to many, that means it's time to get ready to complain that Jay Cutler has no heart or that Mike Martz (though they'll probably pronounce it "Mertz") doesn't run the ball enough and that you never liked this Lummie Smith.

But to some of us it means that hockey season is just a tick away.
The Hawks report to camp next Friday for medicals and weigh-ins and probably some turning of heads and coughing, with the training camp festival the next day. But the players will return over the next week to the city and start to skate on their own at Johnny's over the next 10 days. You'll be seeing more promotional events and hearing more stories about where they're at. And of course, I'll be getting closer and closer to a full mental breakdown.
So let's tie up some loose ends here:
Patrick Kane says he's ahead of schedule in recovery from wrist surgery. He'll have his splint removed (the cast was tossed aside a while ago) the day before camp opens. Might take a week for him to get strength and motion back in it, but Kane will not miss all of camp as we first feared. Seeing as he looks like he's been working out all summer, he probably doesn't need all of camp to be ready for the season. He's aiming for four preseason games, which is probably more than he'll get if there's any worry. But three would be more than enough to be ready for Oct. 7.

Some good news on the Alumni front: Stan Mikita looks like he's recovering from cancer treatments quite well. He was diagnosed with oral cancer in the spring, but after radiation and treatment he says his doctors are telling him everything looks clear. He'll be back to glad-handing the 100 Level luxury box holders in no time, where he hopefully won't have to clean up after Bobby Hull.

The Icehogs signed a depth defenseman in Brian Fahey to go along with their forward depth signing in Brandon Segal. He's been a career AHL-er, but he's got some size and years of experience, which the Rockford blue line was short on.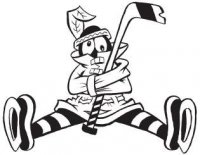 Sam Fels is the proprietor of The Committed Indian, an unofficial program for the Blackhawks. You may have seen him hocking the magazine outside the United Center at Gate 3. The program is also available for purchase online. Fels is a lifelong 'Hawks fan and he also writes for Second City Hockey .