A child's body was found in a northwest Indiana pond Thursday afternoon and Wheeling authorities responded to the scene as they search for a missing 1-year-old girl whose mother was found dead in a suburban apartment this week.
Authorities urged residents to avoid the area of Interstate 80 and Kennedy Avenue for "police activity," according to Indiana State Police, who said construction workers in the area reported what they believed was a person in the pond.
Hours later, authorities revealed a child's body was discovered in a water retention pond just off the expressway.
Police said the child was a Black female under the age of 5, but no identity was immediately released. The Lake County Coroner's office confirmed it was called to the scene.
Wheeling police said they sent a team to the scene as they frantically search for 1-year-old Jacklyn "Angel" Dobbs, who has been missing since authorities discovered her mother strangled to death in a Wheeling apartment Tuesday. Indiana State Police confirmed they were working with the Major Crimes Assistance Team in northwest Illinois regarding the investigation.
"That's one of the leads we are pursuing," said Sgt. Glen Fifield with the Indiana State Police.
Wheeling police said they notified Jacklyn's family that a body had been found, but no identity has been released.
"We fear the worst," said Deputy Chief for the Wheeling Police Department Al Stephen.
Around the same time as the search began in northwest Indiana, the Cook County Medical Examiner's office said an autopsy found 21-year-old Ja'nya Murphy, Jacklyn's mother, died of asphyxiation strangulation.
According to authorities, investigators uncovered video evidence that led them to a person and vehicle of interest in the case, but while both that person and the vehicle were located in Missouri, Murphy's child was nowhere to be found.
Police did not release the person of interest's identity but said the person "had a previous relationship" with Murphy, though he is not the child's father, police said.
The person of interest was seen with Murphy the day before she was found dead, believed to be murdered, and they learned soon after that the person had left the state of Illinois, Wheeling police said.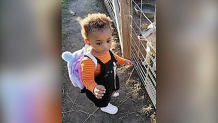 Illinois State Police issued an endangered missing person advisory "based on suspicious circumstances" surrounding the child's disappearance.
"This notification is designed for situations which do not fit the criteria for an AMBER alert but do involve a person who is missing and believed to be in danger," police said in a release.
State police said Jacklyn "may be in danger."
The child is described as a 1-year-old Black female, standing 2 feet tall and weighing 24 pounds. She has black hair and brown eyes.
Anyone with information on her disappearance is being asked to contact the Wheeling Police Department at (847) 459-2632 or call 911.
"We need the public's assistance in this," Stephen said.
Further information on what happened wasn't immediately released by police.
Check back for more on this developing story.