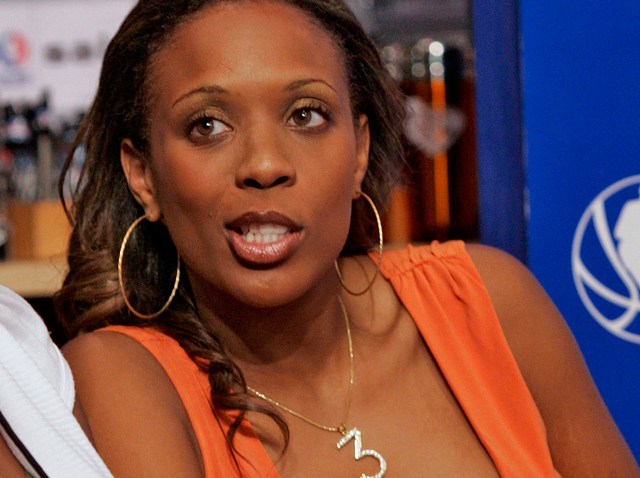 Dwyane Wade
's wife Siohvaugh Wade was taken into custody this morning by Cook County deputies.
She was arrested at 11:15 after she arrived at the Daley Center with her attorney, but posted $10,000 bond.
Nega said a pattern of behavior by Mrs. Wade could threaten her custody claim.
"When things don't go according to Mrs. Wade's way all of a sudden the phone's turned off," said Nega, clearly exasperated when Siohvaughn Wade's attorney explained she had not been able to reach her client.
Dwayne Wade's attorney had planned to ask during the Monday hearing that his client be given physical custody of the couple's two boys, ages 8 and 2.
The judge said Siohvaughn Wade had refused to comply with other orders. For example, Nega said, Siohvaughn Wade has not followed an order to make sure the couple's two children talk to their father every day. Nega also noted the children were not at their Chicago school last week to be picked up by Dwyane Wade's sister as the judge had ordered.
The judge said her main concern was what the couple's ongoing divorce was doing to the children and suggested she may order custody be given to Dwyane Wade.
"Maybe it's time for the kids to go live with Dad for a month or two," the judge said.
Last week, Siohvaughn Wade filed a lawsuit in Chicago contending Wade's relationship with actress Gabrielle Union was causing the couple's sons emotional distress, alleging, for example, that Wade and Union "engaged in sexual foreplay" in front of the boys.
Dwyane Wade has called the lawsuit "baseless and meritless." After Monday's hearing, his attorney, James Pritikin, said he wants the judge to order a psychiatric evaluation for Siohvaughn Wade.
Pritikin told the judge Siohvaughn Wade has repeatedly thwarted Dwyane Wade's efforts to visit his children or talk with them on the phone. Pritikin said she even once called police when Dwyane Wade showed up at the couple's Miami home to pick them up, falsely telling officers there was a warrant out for the basketball player's arrest.
Pritikin requested that the judge ask the state's attorney's office to launch a criminal investigation. In court documents, his office said Siohvaughn Wade is "unstable, dishonest, and unbalanced," and that more time with her "would seriously endanger the minor children's physical, mental, moral and emotional health."
Siohvaughn Wade's attorney, Marsha Fisher, tried to take some blame for her client's failure to appear Monday. Fisher said Wade had learned Fisher had been in a car accident and apparently thought she did not have to show up in court.
"The fact that you had a car accident does not excuse Mrs. Wade not being here," the judge said.
Get Breaking SMS Alerts: Be the first to know when news breaks, and when weather changes dramatically.
News: Text CHIBREAKING to 622669
Weather: Text CHIWEATHER to 622669
Copyright AP - Associated Press