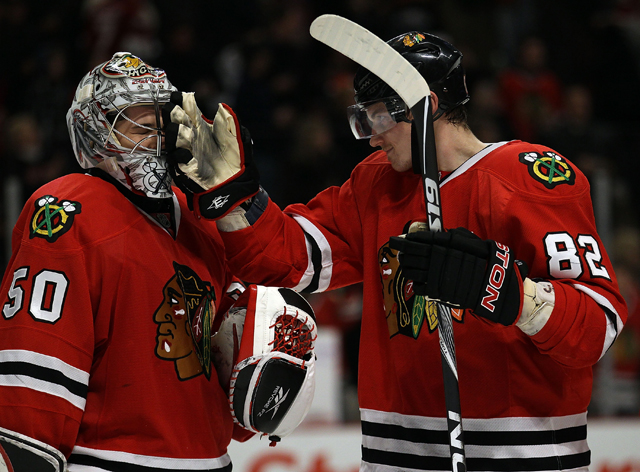 Well, Marian, someone else will have to drive your cars.
The Hawks sent the rights to Tomas Kopecky, which they only held for four more days, to Florida for a 7th round draft pick either in 2012 or 2013. In layman's terms, not much. Florida now gets four days to deal exclusively with Kopecky. They'll probably massively overpay him due to A) coming off a career-year with 15 goals and 42 points and B) they kind of have to overpay everyone just to hit the salary floor (more on this in a bit).
But the Hawks are right to not be the ones overpaying Kopecky. While his 15 goals look impressive, most of that was a result of skating alongside Marian Hossa when Hossa was October's best player on the planet. Kopecky just didn't fill out any category to the hilt. He had size but couldn't really use it. He has a good shot but took too long to get it off. He tried to get to the front of the net but was too easily moved from there. He tried to be a pest but didn't really annoy anyone. He couldn't really hit anyone with his size. He couldn't really skate fast enough to be on a top line, but didn't have enough jam to be on a fourth one consistently. He'd have streaks where he looked competent, and then weeks where you'd barely notice him. He just didn't have enough of anything. Except for having his helmet fall off. He was great at that.
The Hawks knew that he couldn't hold down a spot on the top two lines, wasn't a good enough checker to be on Dave Bolland's line, and they want to makeover their fourth line with more sandpaper or guts. Getting anything for the player already at the exit door can be considered win.
The bigger issue at play here is when the Panthers overpay Kopecky just to hit the salary floor. Ryan Lambert on Yahoo's Puck Daddy addressed this today. Because there are a bevy of teams below the floor, they're going to have to leave logic behind in getting over it. That's going to distort the market. Because let's say they hand Kopecky 2.5-3 million, and why wouldn't they, they've got the space, then what happens when a player on par to Kopecky's skill hits the market? He would be no more of a $2.5 million player than Kopecky, but will have that as leverage. It could get weird.