Hawks Send Olesz Down
Some stories have an ending so clear that you know what they are well before they get there.
The Rostislav Olesz story was one, as most fans knew at this acquisition in the Brian Campbell trade that he would end up off the NHL roster -- be it in Rock Vegas or on another team. That's why a lot were clamoring to buy him out when it only would have cost the Hawks $700K. But they didn't, and here we are.
The Hawks put Olesz on waivers Wednesday, and after the other 29 teams walked around him, kicked his tires, looked under the hood, and then gagged at the sticker price, he was assigned to Rockford. It's unclear what Olesz does. He's not a scorer, he's not a playmaker, he's not a crasher, and his defensive game is rather "meh". We could have told the Hawks this before he ever laced a skate at training camp, but they wanted a look for themselves. It's hard to know why, there was plenty of scouting reports and game footage. Perhaps the easiest explanation, one we'll never get, is that either Stan Bowman didn't want to ask Rocky Wirtz to pay yet another player many millions to not be in Chicago like Cristobal Huet. Or maybe Rocky told him he didn't. But seeing as how the story of the summer was that Stan was a genius for saving the money on Brian Campbell's contract, this was still $4 million less than that cost. Whatever. He's gone now.
Who do the Hawks call up? Most likely is Ben Smith, who's been lighting it up in Rockford, though there's no official word yet. Smith had 10 points in nine games after getting over his concussion suffered in the preseason. Where Smith might slot it is anyone's guess. The top line of Marian Hossa, Jonathan Toews, and Viktor Stalberg is functioning too well. He could be a cow-catcher for Patrick Sharp and Patrick Kane, returning Dan Carcillo to the fourth line where he probably belongs. But Smith might not have the hands or touch to play with the other two. He could be replacing Bryan Bickell on the 3rd line, who clearly has fallen straight into Joel Quenneville's Chateau Bow Wow. Or maybe Andrew Brunette is moving to that unit and Smith will be on Marcus Kruger's wing on the fourth line. We'll just have to see, and as everything with Joel Quenneville, it's always subject to change.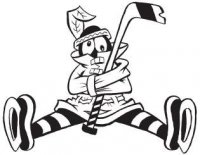 Sam Fels is the proprietor of The Committed Indian, an unofficial program for the Blackhawks. You may have seen him hocking the magazine outside the United Center at Gate 3. The program is also available for purchase online. Fels is a lifelong 'Hawks fan and he also writes for Second City Hockey .