For a Hawks fan like me, when the blind rage dies down, we'll realize that a defensive effort like the one Sunday night will see the Hawks through this season quite well. We'll realize this is the point where the Hawks have to be. It'll be clear to us, when the clouds of anger subside, that sometimes calls don't go your way. Or that the Hawks had enough chances to bury this game and didn't take them.
But when it's Detroit, and you feel like they've been getting those calls or not getting called for the better part of your adult life, the sting won't die out before we all adjourn to the boudoir for the evening. Then again, we could probably just grow up.
Either way, the Hawks put forth a much more solid effort last night than what we've seen the past three games. The defensive suicidal tendencies of Philadelphia were erased, the nonchalance that resulted in losses to Edmonton and Colorado was nowhere to be seen. The Hawks skated hard and once again exposed the difference in speed these two teams have.
But the story, when you break through, will be the missed opportunities, and Chicago has lost four straight. The Hawks could have easily walked out two- or three-goal winners. But after an initial power play goal, it failed to register a threat. Entry was brutal, as the Wings forced the Hawks to dump it in and they couldn't get it back. They never got set up.
They had a penalty shot after Tomas Holmstrom pretty clearly covered the puck past the goal line. But because you can't see the puck through his glove, the Hawks had to settle for a penalty shot falling to their fourth line. Tough luck there.
In the end, they couldn't see it out. A crosscheck to Nick Leddy aided the equalizer, and more shenanigans in the OT.
The lack of a throat slash to end this game is somewhat concerning, but not as encouraging as the defensive effort that kept the Wings under wraps for all of the game is. Repeat it for a majority of games, and they'll be looking up at the Hawks when all is said and done.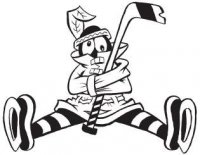 Sam Fels is the proprietor of The Committed Indian, an unofficial program for the Blackhawks. You may have seen him hocking the magazine outside the United Center at Gate 3. The program is also available for purchase online. Fels is a lifelong 'Hawks fan and he also writes for Second City Hockey .