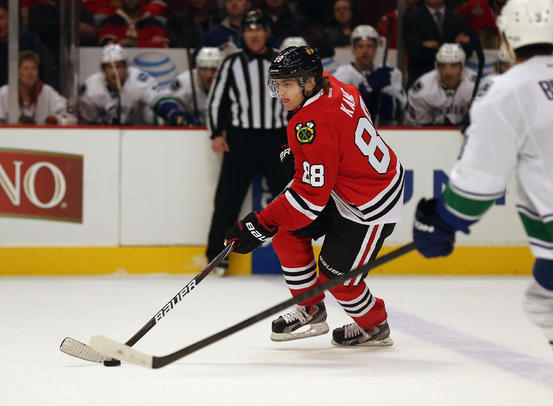 As promised, Madhouse Enforcer is proud to present the first installment of Hawks Headlines, a series of posts designed to track down the latest news surrounding the Chicago Blackhawks. We'll also have random videos and stories that can be found around the web, so if you're ever wanting to get your Hawks fix, you have to look no further than right here.
It isn't just any team that can make a legitimate argument to employ a team historian, but the Hawks do exactly that with Bob Verdi. On their website yesterday afternoon, the Hawks posted an interesting Q & A that Verdi did with Patrick Kane. There were several interesting tidbits from the piece, but perhaps the most fascinating one came when Kane was asked about judging his own performance:
"I am my biggest critic. I've done some good things with the Blackhawks, but I think I can do more…There are a lot of areas where I could improve, and I am really focused on getting better – not only for myself, but for my teammates, the organization, the fans, my family, and friends….I don't want to let Chicago down. It's not only goals and assists, either. I don't want to disappoint anyone."
Those items seem to reference not only his on-ice performance, but also to his off-ice issues. For those concerned about the maturity level this 24 year old possesses, this piece would seem to be an indication he has turned a corner. [Blackhawks.com]
Steve Lepore has a breakdown of the television ratings for Sunday's Blackhawks-Red Wings tilt on NBC. All it managed to do was post the highest rating the network has ever had for a non-Winter Classic regular season game. [SB Nation]
Chris Kuc had some good nuggets in his piece for the Tribune, including news that center Dave Bolland will likely return on Tuesday night (we'll have more on this later today on the blog). [Chicago Tribune]
Amid all the hubbub yesterday surrounding Stephen A. Smith's silliness and the debate over ESPN's place in covering hockey, it got lost in the shuffle a bit that more media outlets than just the Worldwide Leader are debating the Hawks' current point streak's place in history. In fact, the LA Times asked several scribes what their thoughts were on the matter, and the answers were intriguing. [LA Times]
Chris Peters has some information that may blow your mind: according to math professor Richard Clearly, the Blackhawks' 22 game point streak to begin the year is something that can be expected to occur once in every 700 YEARS. Somehow, I don't think that's what Kevin Allen was going for when he interviewed the mathematician, but then again, it's reasonable to assume that no one saw the Hawks doing this well. [CBS Eye on Hockey]
Finally, there is the story of lifelong Chicago Blackhawks fan Stella Caccamo. She hasn't been to a game in 50 years, and with that in mind, her family recorded a video of her performing a poem she wrote about the team in hopes that someone in the organization would hook her up with some tickets.

Does she deserve them? For our money, she certainly does.