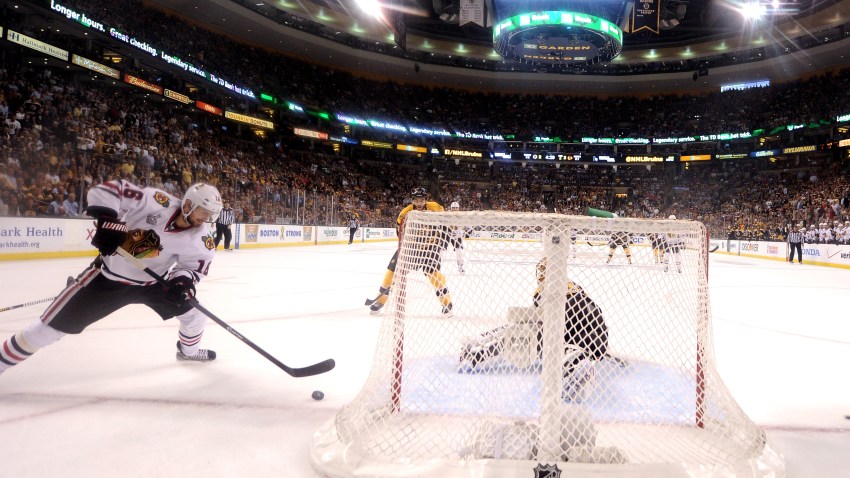 Madhouse Enforcer is proud to present Hawks Headlines, a series of posts designed to track down the latest news surrounding the Chicago Blackhawks. We'll also have random videos and stories that can be found around the web, so if you're ever wanting to get your Hawks fix, you have to look no further than right here.
If you have any tips for Hawks Headlines, feel free to email me at jamesneveau@gmail.com, or hit me on Twitter @JamesNeveau
Sam Fels had some interesting thoughts on a variety of topics, including the benching of Nick Leddy in Game 4 (he agreed with it), as well as thoughts on the issues that Corey Crawford was having on his glove side (it isn't a new occurrence). [The Committed Indian]

Corey Masisak had a piece about how the Blackhawks want to play Game 5: fast. Really fast. [NHL.com]

While everyone was focused on Brent Seabrook's penchant for game-winning goals (Game 7 vs. Detroit, Game 4 vs. Boston), Tracey Myers did an excellent job of getting to the bottom of what Seabrook really brings to the Blackhawks: a uniting attitude. Here is her story about how he embraced that role, and helped bring captain Jonathan Toews out of the doldrums with it. [CSN Chicago]

Speaking of Nick Leddy, head coach Joel Quenneville seemed to intimate that he would play on Saturday, despite the fact that the youngster only played four shifts on Wednesday. [ESPN Chicago]

Apparently the Blackhawks are no longer afraid of Zdeno Chara. Mark Lazerus recounts the story of how Bryan Bickell knocking the giant over represents a sea change in the Hawks' attitude toward the Bruins captain. He does ignore the fact that Patrick Kane avoided getting anywhere near him on a rush in the third period of Game 4. [Chicago Sun-Times]

We tweeted this yesterday on our Twitter account (you can follow us at @Madhousenforcer), but in case you missed it, here is a man from the Kankakee area who is so confident in the Blackhawks winning the Stanley Cup that he got the year "2013" tattooed beneath an image of the Cup on his bicep. Wonder if the hockey gods will notice. [Daily Journal]

Finally, if you haven't gotten your fill yet of musical tributes to the Blackhawks, here's one of the more polished efforts by a group of young hip-hop artists. We'll let you judge its quality.