The Blackhawks didn't blow anyone's eyelids back Monday, and they probably weren't ever going to. But they did fill a need, and stripped themselves of a Coach Joel Quenneville toy.
The Hawks sent a couple picks in 2013's draft to Winnipeg for Johnny Oduya. Oduya three years ago was a pretty stout D-man in New Jersey. He was a good puck-mover, good skater, and solid in his own end. Since being traded to Atlanta/Winnipeg his game has slipped. That could be because of the less talent and structure found in that organization, or just a natural regression of a player. We'll find out.
If Oduya maxes out, he's basically a plus-Chris Campoli from last year. He can help the Hawks transition game and breakouts, and maybe even aid the second unit on the power play. He's a decent penalty killer as well.
But he's not going to perform any miracles, and is more depth than replacing anything that's faltering on the top two pairs, which is probably what the Hawks really needed. But that guy wasn't out there, or if he was Bowman's offers were rebuffed for them. Only Kyle Quincey who moved last week is a name that would have accomplished that.
The Hawks didn't get a second line center, or a gritty forward that you may need in the playoffs. But again, none of those moved to other teams today, and they just might not have been available.
On the plus side, I'll never have to watch John Scott play again. Stan stripped Joel Quenneville of the option by shipping him to the Rangers. What I'd like to believe is that Stan knows that all six d-men dressed have to play to lighten minutes on Nick Leddy and Duncan Keith, and that can't happen when Scott plays his four minutes and sits. Again, not a world-spinning move, but at least one that makes some sense.
The answers to the Hawks problems are in the room still. Who knows if they'll find it, though.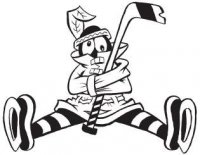 Sam Fels is the proprietor of The Committed Indian, an unofficial program for the Blackhawks. You may have seen him hocking the magazine outside the United Center at Gate 3. The program is also available for purchase online. Fels is a lifelong 'Hawks fan and he also writes for Second City Hockey .