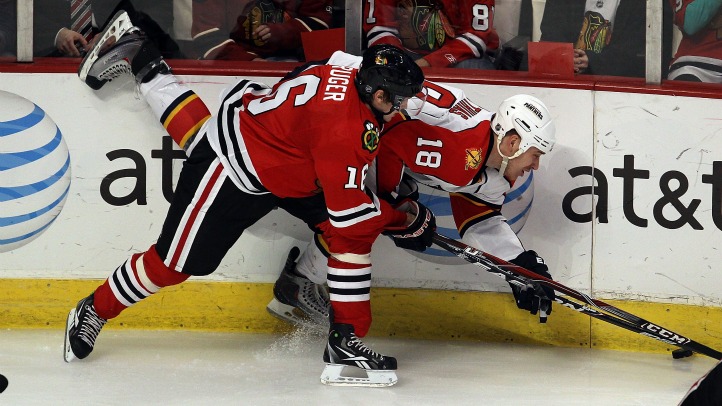 It's a little early to get too gushy, but one of the big difference this year from last year's team is that the Hawks are getting help from their call-ups. This never happened last season. No team, or good team, will survive unless it can bring some kids up from their AHL team to fill in when injuries hit and not have a huge dropoff.
While it's stretching it a bit to call Marcus Kruger one of them, he did start the year in Rockford after a ho-hum training camp. He quickly established himself on the 4th line, with determined, high-IQ play even though he's not the biggest or strongest. More impressive was his desire to get to the net, something that we wish he would infect other Hawks forwards recently. He's defensively sound, and compensates for lack of brute strength with some quick hands to steal pucks. He's been a very pleasant surprise.
Recently, Hawks fans have been excited by the contributions of Andrew Shaw and Jimmy Hayes. And while it should be countered by the fact that it's only a few games, they have reasons to be. Hayes is a big forward, which the Hawks lack. He's shown above-average hands, and has played a game that has fit on both the fourth line and top six. He doesn't run around trying to be physical, but does bring that to the Hawks when it's within bounds.
Shaw has brought an element of nuttiness that every team needs. but it's not the reckless, dangerous, selfish nuttiness that pretty much comprised Dan Carcillo's game. Shaw loves to get in the dirty areas and throw his weight around, which isn't much. But the dude is totally fearless, and actually has a decent pair of hands to finish chances when he gets them or create them. He looks like he could be a solid fourth liner on this team, and maybe higher in future years.
It's always encouraging to see players come through the system and contribute, even if it's just here and there. It makes you believe in what more may be coming in the future. But for the here and now, it means that Hawks fans don't have to panic now that some injuries have settled in. And it means the entire organization is stronger than it was. Players are developing down in Rockford, as Hayes's game has taken a leap from last year. Brandon Pirri is a different player. Dylan Olsen as well. There are others.
The Hawks could be set for a while, and maybe even for right now.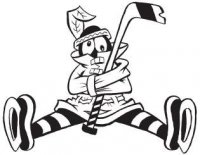 Sam Fels is the proprietor of The Committed Indian, an unofficial program for the Blackhawks. You may have seen him hocking the magazine outside the United Center at Gate 3. The program is also available for purchase online. Fels is a lifelong 'Hawks fan and he also writes for Second City Hockey .