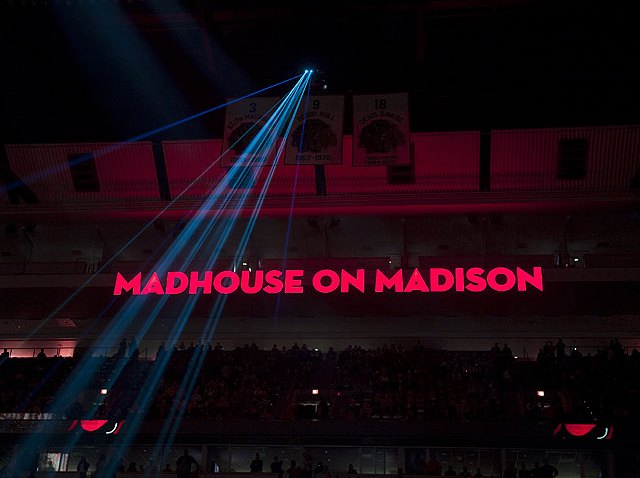 Hey guys. It's been a while since we talked. No no, the rent and bills are paid, and we don't mind your bland music.

Anyway, we see you're engaging on the road we just walked, and we thought we could help. We know it wasn't so long ago you and your fans did this a lot. But people seemed to have forgotten how that worked. Seeing as how we just did it, we'll help.
First off, what you're trying to do is rare. Usually, in both our sports, one has to walk and fall down before they can run. There are one or two, maybe even three playoff runs that end in heartache before you get the one that doesn't.

With your excellent regular season, you seem to want to skip all those steps. That's admirable. We hope you do it, but if you don't, take solace in that this sort of thing just isn't done.

Your older brother? The 90's Bulls? They lost to the Pistons three times before they got one over on them. It's how these things go.
We see you're tied 2-2 with Game 5 at home tonight.

We've been there. Twice.

Two years ago against Calgary we lost two games to a team that simply wasn't as good. We blew them out in the first period and the series was effectively over.

You may remember last year's Finals. We came back home tied 2-2 and the city was in a panic. Remember that? Again, we blew them out in the first period and the series was pretty much over.

That's all you have to do tonight. Start this game proving you're the better team. Because you are. Get up by 20. One more blowout and they won't come back in Game 6.
We see you're having similar problems to our team this year. Guys are hurt and ineffective. Carlos Boozer can't score. Neither could Marian Hossa. You'll find a way. You have to.

As we did, you have a handicapped leader with Derrick Rose's ankle. We had Jonathan Toews's shoulder. But he tied Game 7 shorthanded.

Rose will win this one tonight, too. It's what killers do.
Most of all, embrace it. The big thing is that when we lost in '09 in the Conference Finals, we didn't bother with a "it was just so cool to go so far" spiel. We knew how rare these opportunities can be. We promised that we wouldn't let the next one go. That's what you have here. A chance. Maybe you take it, maybe you don't. But don't underestimate how hard they are to come by. If you don't get his one, promise you won't miss on the next one.
Maybe we can do that together next spring.

Oh, and we need milk.
Copyright FREEL - NBC Local Media