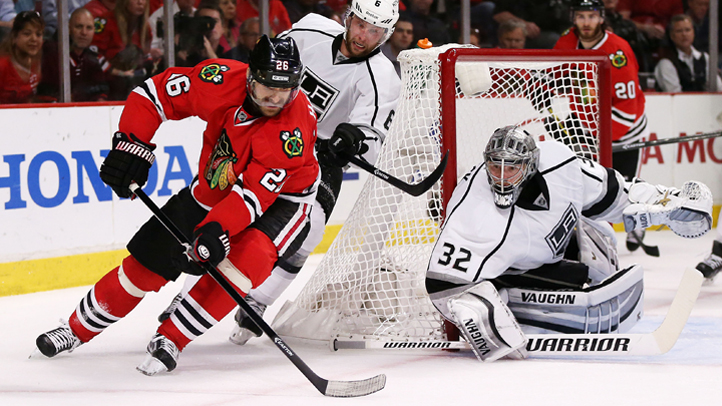 The Chicago Blackhawks were busy on Tuesday afternoon as they cleaned out their lockers at the United Center, and just about all of them spoke to the media as they were preparing to go their separate ways for the summer.
One of the biggest headlines coming out of those press conferences were remarks made by center Michal Handzus, who addressed speculation on whether or not he was going to continue playing after a disappointing postseason run with the Hawks:
Center Michal Handzus does not plan on retiring: "I'll be playing." He's an unrestricted free agent. #Blackhawks — Chris Kuc (@ChrisKuc) June 3, 2014
In 19 games over the postseason, Handzus had two goals and one assist, and he ended up with a minus-8 rating while averaging 13:15 of ice time per game. Handzus did have the overtime Game 5 winner for the Blackhawks during their series with the Los Angeles Kings, but outside of that, the veteran center looked a step slow throughout the postseason, and his playing time suffered as a result.
Handzus will be an unrestricted free agent as of July 1st, and GM Stan Bowman didn't tip off whether he plans to bring the 37-year old back into the fold. The Hawks have several other potential options at center, with Andrew Shaw filling the second line center role over the final few games of the postseason. Marcus Kruger, Ben Smith, and Joakim Nordstrom all are potential options for center slots next season if Handzus doesn't return, and prospects like Teuvo Teravainen and Kevin Hayes could get looks as well.