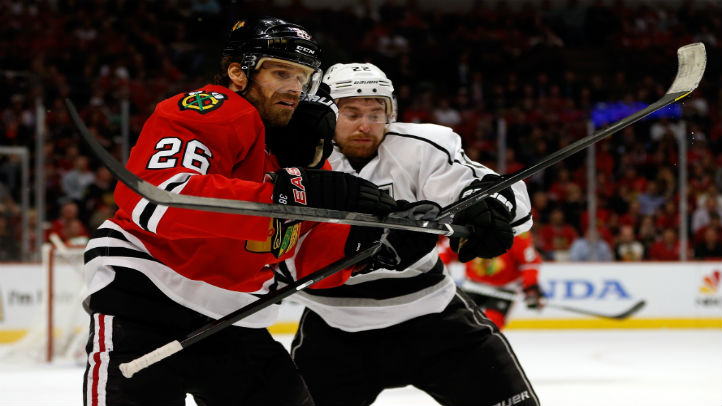 Michal Handzus has missed the Chicago Blackhawks' last three games, and will likely miss at least two more as he didn't practice Thursday with an upper body injury.
The Blackhawks held a practice Thursday morning, and their lines were pretty much the same, aside from the fourth line where Ben Smith took Brad Mills' place.
Handzus was not at the practice, thereby confirming head coach Joel Quenneville's assertion that the veteran center likely won't be playing this weekend in games against the Winnipeg Jets and Calgary Flames.
Even before Handzus left the lineup with an upper body injury, he had been struggling mightily. He had three shots on goal and zero points in his last four games played, and his penalty for touching the puck with his hand on a faceoff had nearly cost the Hawks the game against the Tampa Bay Lightning last week. If it hadn't been for the fortunate bounce off of Radko Gudas, Handzus may very well have been the goat in that game.
For the past two games, Brandon Pirri has stepped into the second line center role that Handzus vacated, and he has been doing some quality work. He had two key assists for the Hawks as they decimated the Minnesota Wild 5-1 on Monday, and his aggressive play both on defense and offense led him to get a bigger share of even-strength minutes in Tuesday's come from behind win over the Ottawa Senators.
Fans and pundits aren't the only ones noticing Pirri's contributions either. Here's what one of his wingers had to say about his performance:
Patrick Kane hopes Brandon Pirri gets a real chance at second-line center: "He's a good player. He can do the job." #Blackhawks — Mark Lazerus (@MarkLazerus) October 31, 2013
When Patrick Kane is giving a guy kudos for his play, it speaks volumes. Obviously, Kane stands to benefit from having a guy who is capable of moving up and down the ice quickly, and Pirri definitely fits that bill over Handzus. The problems with Pirri's defense, which led many to believe that he wouldn't be capable of taking on the second line center's role on the team, have not come to fruition as he has proven to be a responsible back-checker and hasn't been caught out of position outside of a couple of minor instances.
With that performance in mind, the question that Quenneville and company will have to answer when Handzus comes back is where to slot him in the lineup. He could be placed back on that second line, but with speed demons like Kane and Brandon Saad there, Handzus would likely be a millstone around their necks rather than a facilitator capable of getting them to play at maximum effectiveness.
A return trip to the fourth line would likely make the most sense, at least in the short-term. Handzus is defensively responsible, and would fit in well with linemates like Marcus Kruger and Brandon Bollig in a more limited role. Some may call for Handzus to get third line minutes, but Quenneville has to consider that breaking up that third line of Bickell-Shaw-Morin might be a mistake, considering how well those three seem to feed off of each other.
Frankly, these are the kinds of decisions that Quenneville and company love to be forced to make. Having such great depth at the forward position is a great problem for the Hawks to have, especially in a division that is proving to be incredibly competitive. With Handzus' return, that "problem" will only get more complicated.