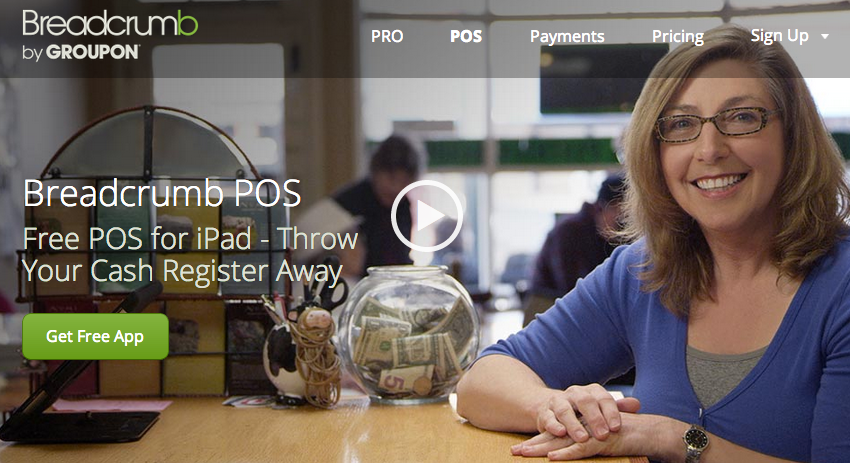 About a year ago, Groupon acquired Breadcrumb, the creator of a Point Of Service system and iPad app that targets local restaurants. Now, the daily-deals company is launching the payment system for businesses. A new competitor for PayPal and Square, Breadcrumb POS makes good on Groupon's plan to get more deeply involved with payments and point-of-sale services for local businesses.
The free app charges vendors 1.8 percent interest per swipe for Visa, Mastercard and Discover — with American Express card rates, as always, varying.
But wait, is this really news? Hasn't Groupon already rolled this service out? Yes and no. The app is new, and previously, Breadcrumb POS was available, but now it is being offered to all brick-and-mortar salons.
Also, merchants using the service won't be required to run Groupon deals.
"We've got merchants already working with Groupon on the core business in terms of deals," Mihir Shah, vice president of Groupon's merchant operating system division told the Tribune. "(There's) great leverage in terms of that distribution to help us get penetration for Breadcrumb."
Although the current version being offered on iTunes is free, there's also a pro version that offers "all the features, free lifetime updates and the best support available" for $99 a month.
As the Trib also points out, "Groupon and Square are trying to convince local businesses to ditch their traditional cash registers and point-of-sale systems in favor of more streamlined technology."
But as-is, Groupon is a latecomer to the party. Will it be enough to keep the company afloat, and more importantly, relevant?
David Wolinsky is a freelance writer and a lifelong Chicagoan. In addition to currently serving as IFC's comedy, film, and TV blogger, he's also a comedy-writing instructor for Second City and an adjunct professor in DePaul's College of Computing and Digital Media. (He also co-runs a blog behind the DePaul class, DIY Game Dev.) He was the Chicago city editor for The Onion A.V. Club where he provided in-depth daily coverage of this city's bustling arts/entertainment scene for half a decade. His first career aspirations were to be a game-show host.