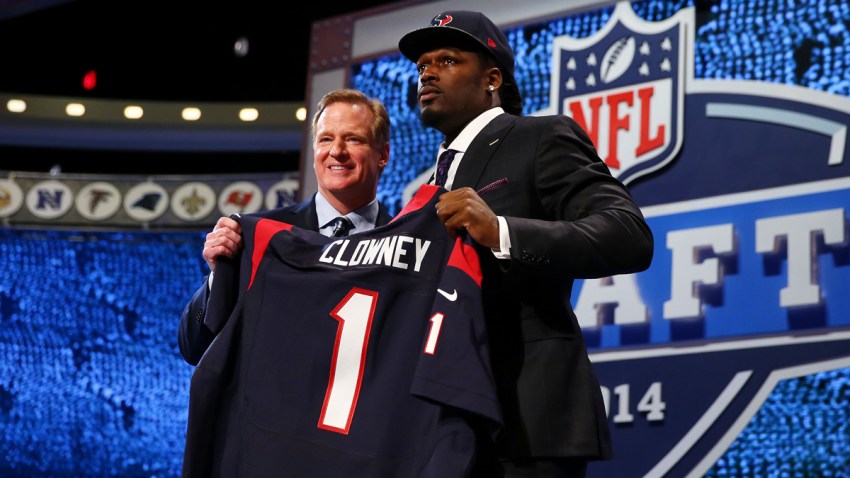 The NFL season is just four days away, and Grizzly Detail will be going through our predictions for each of the NFL's eight divisions, as well as our picks for the Super Bowl and the various awards available after the campaign.
We've already gone through the other three divisions that the Bears will play against this season, so we'll finish our look at the AFC today with our AFC South predictions. Just how good will Andrew Luck and the Indianapolis Colts be? Can the Houston Texans go from worst to first?
Indianapolis Colts: 11-5
The Colts are a team poised for a massive season, thanks to an offense that may only trail the Denver Broncos in terms of sheer potency. Luck is one of the best quarterbacks in the league, and he could make another huge step forward this season. Having wide receivers like Reggie Wayne and TY Hilton is going to be a big help, as will Hakeem Nicks as another receiving option.
The real wild card on their offense will be running back Trent Richardson. If he can find the form he had during his rookie season with the Cleveland Browns, then the Colts are going to be impossible to stop. If he more closely resembles his sophomore form, then they could struggle.
The Colts also have some questions on defense, with a shoddy pass rush limiting their all-around grade. Cornerbacks Greg Toler and Vontae Davis are both going to have to step up their game to make up for that inability to generate pressure, but if they can, then they should be able to once again win the division title.
Houston Texans: 10-6
The Texans finished 2-14 last season, but a lot of that had to do with bad luck and some preposterously bad quarterback play. Matt Schaub is now an Oakland Raider, and Gary Kubiak is no longer patrolling the sidelines.
Former Penn State coach Bill O'Brien has taken over the team, and he will be looking to utilize a lot of fresh faces to turn things around. None of those players will be more critical to the success of the Texans than first overall pick Jadeveon Clowney, who will join JJ Watt to form one of the most frightening pass rushing tandems in the NFL. Add in linebackers Brian Cushing and Whitney Mercilus to that mix, and Houston's defense is going to be a pain for the rest of the division.
The big question with the Texans surrounds their offense. Can Ryan Fitzpatrick utilize weapons like Andre Johnson and DeAndre Hopkins effectively? Can Arian Foster stay on the field? Will the Texans miss Ben Tate? All of these questions are going to need to be answered as the season wears on, but as you can see from our predicted record for the Texans, we have confidence in O'Brien and company to get the job done.
Tennessee Titans: 8-8
The Titans are a team in transition, with new players all over their lineup and a division that is growing tougher every season.
The focal point of their season will undoubtedly be quarterback Jake Locker, who is playing for a new contract with the team. He does have some good weapons to throw to in Kendall Wright and Nate Washington (Justin Hunter could also be a fantasy sleeper if you're looking for help on the waiver wire), but can Shonn Greene and Bishop Sankey provide the kind of rushing attack that will keep some of the pressure off of Locker?
The other big question for the Titans will be whether or not they can improve their defense. Their pass defense was 11th in the NFL last season, but their rushing defense was an anemic 20th in the league, surrendering 112.2 yards per game on the ground. They'll need improved performances from their front seven in order to reverse that trend, but it's unclear whether or not they can expect that kind of boost in fortunes.
Jacksonville Jaguars: 4-12
The Jaguars are a team that seems to be in a perpetual state of transition. This season will be no different, as Chad Henne keeps the starting quarterback slot warm as Blake Bortles gets familiar with the expectations of the NFL. Wide receiver Marqise Lee will also have some big shoes to fill, as Justin Blackmon misses yet more time because of suspension.
One big acquisition that could pay dividends for the Jaguars is running back Toby Gerhart. He could very well rack up carries at a rate higher than any other back in the NFL, and if he can take some of the pressure off of Henne, then the Jags' offense should function better than it did last season.
On defense, the Jaguars have a couple of interesting components, including strong safety Johnathan Cyprien and middle linebacker Paul Posluszny, but they'll need to make a big leap forward to really make any improvement on their dismal 2013 record.