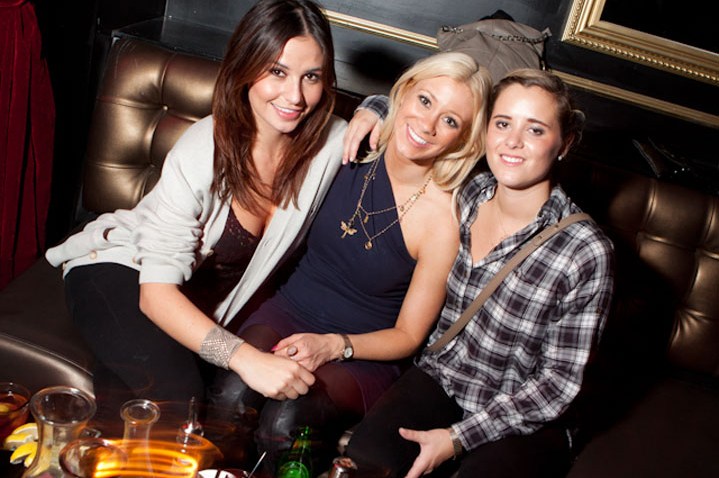 The NFL Draft is finally upon us, and just about everyone worth their salt is weighing in with their mock drafts before the Houston Texans officially go on the clock at 7pm Central time on Thursday night.
In that spirit, we've decided to do a mock draft of their own, and we've even thrown in a few trades that we could see happening as the teams re-position themselves to address their biggest needs.
1 Houston Texans: Jadeveon Clowney, DE – South Carolina
While it might make sense for the Texans to trade out of this pick, it's highly unlikely that they are going to find any takers. The Atlanta Falcons could potentially jump up to take this pick, but the cost might be too high for a team that has several other holes to fill. As long as Houston holds onto the pick, then Clowney is the correct guy.
2 St. Louis Rams (from Washington Redskins): Greg Robinson, OT – Auburn
The Rams have a couple of different directions they can go with this pick (including trading it and getting a bevy of draft picks like they did then whey sent the number two pick to the Washington Redskins a few years ago), but the smartest move here is to bolster the offensive line and draft Robinson, who has the potential to be a star in the league. Sammy Watkins could also work, but with a quarterback situation that's in flux, it makes more sense to go with a safe pick here for St. Louis.
3 Jacksonville Jaguars: Khalil Mack, OLB – Buffalo
A lot of mock drafts have the Jaguars taking Watkins in this spot, but what sense does it make to draft yet another wide receiver (they also have Justin Blackmon on the roster) when you don't have a quarterback to get them the ball? A guy like Blake Bortles would also make sense in this spot, but Mack has the potential to be a game-changer on defense, and he could be a cornerstone for this team for years to come.
4 Cleveland Browns: Sammy Watkins, WR – Clemson
Watkins is one of the most freakishly talented wide outs to come out of college in quite some time, and the thought of pairing him up with Jordan Cameron and Josh Gordon has to be a tantalizing one for the Browns. They may not have a quarterback that they can fully trust to distribute the ball, but with weapons like these, it's not hard to see them trying to trade for one to take full advantage of the arsenal.
5 Oakland Raiders: Jake Matthews, OT – Texas A&M
We were tempted to go with Johnny Manziel or Blake Bortles in this spot, but the Raiders have much more pressing needs both on defense and on their offensive line. With Mack and Clowney off the board, it would make sense for the Raiders to address the latter issue first, and Matthews would be a great pick-up.
6 Buffalo Bills (from Atlanta Falcons): Mike Evans, WR – Texas A&M
Our first trade of the first round sees the Bills jumping up from the ninth spot to grab a wide receiver that they desperately need. Stevie Johnson is a much more viable option as a number two guy, and having a guy like Evans would be a huge get for a Bills offense that's in need of more passing weapons.
7 Tampa Bay Buccaneers: Aaron Donald, DT – Pittsburgh
With Evans going to the Bills, the Buccaneers will have to address another need besides putting a quality offensive weapon next to Vincent Jackson. Instead, Lovie Smith will go for a bit of a luxury pick as he adds the explosive Donald to a quality defensive line.
8 Minnesota Vikings: Blake Bortles, QB – UCF
The first quarterback taken in this draft will go to the Vikings, who will elect to use a first round pick on a QB despite protests to the contrary by their front office brass. Bortles has all the tools necessary to be a really good quarterback in the NFL, and picking him eighth is a really solid investment at this spot in the draft.
9 Atlanta Falcons (from Buffalo Bills): Taylor Lewan, OT – Michigan
There have been some mock drafts that have Lewan going to the Falcons at number six, so if they could trade down and still get the hulking 6-foot-7 tackle out of Michigan, they would be ecstatic. They have some serious weapons on offense, and having a guy like Lewan would give Matt Ryan plenty of time to throw the ball. Their defense needs help too, but getting Lewan sets up their offense for a great deal of success.
10 Detroit Lions: Darqueze Dennard, CB – Michigan State
The Big Ten is represented in back-to-back picks as the Lions address their need at cornerback. Donald would have been a good it for them in this spot, and Ha Ha Clinton-Dix or Calvin Pryor would give the Lions a great weapon over the top on their defense. Dennard is the most polished cornerback in this draft however, and he instantly upgrades the team's pass defense.
11 Tennessee Titans: Anthony Barr, OLB – UCLA
Speaking of guys who are bouncing all over draft boards, Barr would be a really nice fit for a Tennessee defense that could use a speedy linebacker. With a 4.48 40-yard dash, Barr's speed has got to be a tantalizing option for the Titans as they look to improve their defense, and picking him up over Justin Gilbert would make quite a bit of sense for them.
12 New York Giants: Zack Martin, OT – Notre Dame
Unable to trade up to get a guy like Matthews or Lewan, the Giants will reach a little bit in this slot and grab Martin off the board. Most of the team's needs on the offensive line, like center, can be addressed elsewhere in the draft, and Martin gives them a guy that can play tackle or guard as they try to keep Eli Manning upright.
13 St. Louis Rams: Ha Ha Clinton-Dix, S – Alabama
What happens with the Bears' pick in the next slot hinges a lot on what the Rams do here, and we're going to assume that they don't go quarterback and instead draft one of the top two safeties on the board. Clinton-Dix has all the makings of a stellar ball-hawking speed demon at the safety slot, and the Rams' defense would certainly improve with him in the fold.
14 Chicago Bears: Calvin Pryor, S – Louisville
The Bears are going to have a really tough choice to make in this slot if they don't trade down, as both Pryor and Gilbert would be a tremendous pick-up here. We're going with Pryor because of his speed and his ability to hit ball-carriers over the middle of the field, lending the Bears' defense a physical element that was largely missing with Major Wright and Chris Conte playing safety last season.
15 Pittsburgh Steelers: Justin Gilbert, CB – Oklahoma State
If Dennard isn't available to the Steelers here (and with teams like the Bears and Lions looking for defensive help, it feels unlikely), then Gilbert would be a great consolation prize. With tremendous speed and excellent coverage skills, Gilbert would fit right in on a Steelers defense that is undergoing a slow transformation, and he would be a great pick-up for them.
16 Dallas Cowboys: Kony Ealy, DE – Missouri
Defensive end isn't exactly a loaded position in this year's draft, and with DeMarcus Ware hitting the highway, the Cowboys could really use a good one. Ealy was a top-10 pick in some early mock drafts, but his stock has been slipping a bit recently. The Cowboys could either get some really good value here, or they could be left kicking themselves if defensive tackles like Timmy Jernigan and Louis Nix III pan out elsewhere.
17 Cleveland Browns (from Baltimore Ravens): Johnny Manziel, QB - Texas A&M
Johnny Football's freefall through the draft finally ends here, as the Browns ensure that they get their guy to throw the ball to Watkins, Gordon, and Cameron. The Cardinals and the Chargers have been rumored to be searching for quarterback help, and this move, though costing the Browns some picks, makes sure that their offensive turnaround will be off to a flying start.

18 New York Jets: Eric Ebron, TE – North Carolina
The Jets have two intriguing quarterbacks in Michael Vick and Geno Smith, and giving them a stellar weapon to throw to like Ebron could be a huge boost to their chances of success. At 6-foot-4, Ebron is a huge target over the middle of the field, and his pass-catching and speed are both top-notch. He could instantly be a playmaker in this offense, and Rex Ryan would be tickled pink if he could get Ebron at #18.
19 Philadelphia Eagles (from Miami Dolphins): Marqise Lee, WR – USC
Moving up three spots in the draft, the Eagles grab a speedy wide receiver who can replace DeSean Jackson in their high tempo offense under Chip Kelly. The Dolphins are likely looking for help on their offensive line, which will still be plentiful further down the board, and the Eagles will happily pay to get their pick of the litter before a run on wide receivers gets going in the late stages of this first round.
20 Arizona Cardinals: C.J. Mosley, ILB – Alabama
The temptation for the Cardinals to take an heir apparent for Carson Palmer, especially with Derek Carr still on the board, may be too much to pass up, but adding Mosley to their defense would help them even more in the rough and tumble NFC West. The Cardinals' defense is an improving group, and adding Mosley would only speed that process along.
21 Green Bay Packers: Louis Nix III – Notre Dame
The Packers need a hulking defensive lineman to settle into a nose tackle spot in their 3-4 defense. Adding Nix to the equation would be one of the most perfect marriages in the first round of the draft, as the 6-foot-2, 345 pound Nix has the potential to be a stalwart in this kind of system.
22 Miami Dolphins (from Philadelphia Eagles): Morgan Moses, OT – Virginia
The Dolphins will still have their pick of several really good offensive linemen in this slot, and the massive Moses will be a really nice option. At 6-foot-6 and 325 pounds, Moses is incredibly strong off the snap, and could wreak some havoc for the Dolphins' blocking schemes as they try to avenge last season's near playoff miss.
23 Kansas City Chiefs: Odell Beckham, Jr, WR – LSU
With his 4.49 40 speed, Beckham could be one of the steals of the draft if he pans out for the Chiefs. There have been rumors that the Chiefs may be willing to trade up to get another weapon for Alex Smith to throw to, but with Beckham's speed, the Chiefs will not only improve in their passing game, but more lanes should open up for Jamaal Charles as well.
24 Cincinnati Bengals: Kyle Fuller, CB – Virginia Tech
The Bengals need a cornerback, and both Fuller and Jason Verrett out of TCU make sense in this slot. Fuller is one of the fastest cornerbacks in the draft, with an even better 40 yard dash speed than Gilbert, and even though he's a bit unpolished, he'll find a happy home in Marvin Lewis' defense.
25 San Diego Chargers: Jason Verrett, CB – TCU
The Chargers also need a cornerback, and they will happily take the leftovers if the Bengals go with Fuller the pick before them. Verrett comes highly touted out of college, and even though he's a bit undersized in an NFL in which big cornerbacks are all the rage, he has the speed and the intelligence to make things happen in the secondary.
26 Baltimore Ravens (from Cleveland Browns): Cyrus Kouandjio, OT - Alabama
With guys like Martin going earlier in the round, the Ravens will feel comfortable trading down a bit so they can stockpile a few picks and fill other holes on the team. Kouandjio is a great place to start as they look to improve their protection schemes for QB Joe Flacco, as the 6-foot-5 and 310 pound lineman has the versatility and the strength to plug a big hole in the Ravens' game plan.
27 New Orleans Saints: Ryan Shazier, OLB – Ohio State
The Saints could go cornerback with this pick, but instead of taking Bradley Roby, they'll instead opt to go with a linebacker to help in the middle of the field. Bulky with a good 40 time, Shazier will fit in well with what Sean Payton's team is looking to do on that side of the ball, and he could be a good asset.
28 Carolina Panthers: Kelvin Benjamin, WR – Florida State
The Panthers are in desperate need of a wide receiver for Cam Newton to throw the ball to, and Benjamin would be a great fit. Huge-bodied at 6-foot-5 and 235 pounds and with speed to burn, Benjamin could be an excellent pass-catching threat for the run-minded Panthers, and they could surprise people by holding steady on offense even though they lost guys like Steve Smith during the offseason.
29 New England Patriots: Ra-Shede Hageman, DT – Minnesota
Hageman is a huge guy at 6-foot-6 and 318 pounds, and he'll make an ideal replacement for Vince Wilfork someday. He has a huge amount of burst up the middle of the field, and his strength and ferocity are great assets for a guy whose skillset is still admittedly raw. The Patriots would be a great landing spot for him, and they would instantly upgrade their defense if they could make that move.
30 San Francisco 49'ers: Brandin Cooks, WR – Oregon State
Undersized at just 5-foot-10, Cooks still fills a need for the 49'ers as they look for more weapons for Colin Kaepernick to utilize. He's a speed demon with a sub 4.50 40-yard dash time, and he can blow past cornerbacks if they don't get a good jam on him at the line. He is similar to Tavon Austin, and with that kind of potential, San Francisco could be in great shape if they grab him.
31 Denver Broncos: Bradley Roby, CB - Ohio State
Roby has had some off-field issues, including a one-game suspension for hsi role in a bar fight in Columbus in the 2013 season, but with his blazing speed (he ran a 4.39 40-yard dash) and his long arms, Roby could be an absolute terror in pass coverage, and the Broncos definitely need a corner with those kind of skills.
32 Seattle Seahawks: Jace Amaro, TE – Texas Tech
The Seahawks will be looking to add some skill on their offensive line, but it'd be really hard for them to pass up Amaro here. At 6-foot-5 and 260 pounds, Amaro is tall enough to be a huge target for Russell Wilson over the middle of the field, and even though he's still a bit raw skills-wise, he set an NCAA record for receiving yards by a tight end in 2013, so there's clearly something there worth exploring for NFL teams.