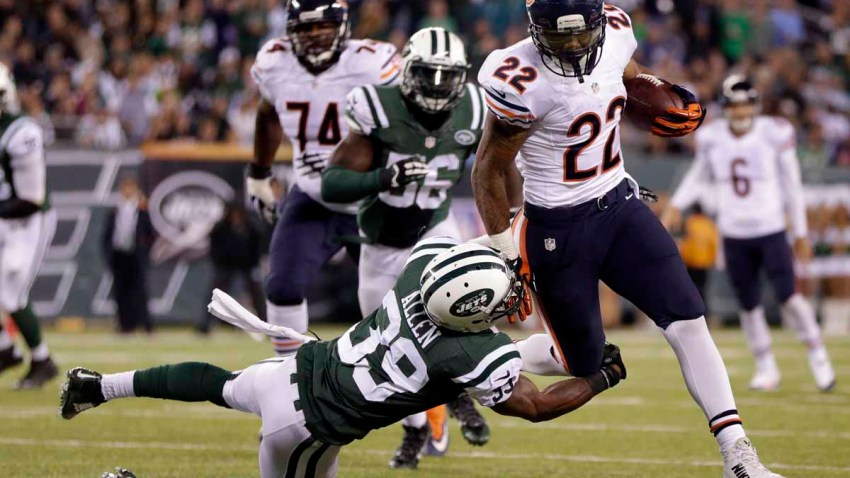 Despite Struggles, Forte Still Contributes When Bears Need Him Most
The Chicago Bears haven't been able to establish their run game for the most part this season, and Monday was no different, as the team rushed for just 60 yards in their 27-19 victory over the New York Jets.
First and foremost on that list of Bears players struggling to move the ball in the run game is Matt Forte, who at one point in the game had one yard on five carries but rallied to rush for 33 yards on 13 attempts in the contest. He did come close to breaking a couple of plays, but whether it was poor blocking up the middle or turning the wrong way when going through a hole, it didn't seem like Forte could find his way.
Fortunately for Forte and the Bears however, the fourth quarter was a different story. On one drive along, Forte ran for 21 yards and picked up a couple of key first downs to keep the clock moving. He also made one of the biggest plays of the day when he picked up a ferocious Jets blitz and allowed Jay Cutler to loft a pass over the middle of the field that Alshon Jeffery hauled in for another first down.
Even when Forte isn't running the ball with maximum effectiveness, he still can contribute in other ways. Whether it's picking up blitzes in pass protection or catching passes out of the backfield (he had six catches for 43 yards in the game), Forte is the Swiss Army Knife of the Bears' offense, and he showed off all of his tricks on Monday night.
Dixon an Unheralded Hero in Monday's Win
A couple of weeks ago, the Bears addressed a glaring need at the safety position by signing Ahmad Dixon, an undrafted free agent out of Baylor University. He was placed well down on the depth chart, and it was only Monday where he received any meaningful action.
In what can only be described as a complete surprise, Dixon not only played in the game against the Jets, but he played well. In the first quarter, it was Dixon who got up to Jalen Saunders on a punt return attempt, and when the return man dropped the ball, Dixon scooped it up and gave the Bears new life. Later on in the game, Dixon made another huge play, destroying Jeremy Kerley with a hit before he could even make a move on a second quarter punt.
In the late stages of the contest, Dixon also stepped into a defensive role, playing a couple of snaps at safety while Danny McCray dealt with the aftermath of an injury that he suffered on the final drive. Dixon didn't have to make any plays on that, but he did serve as a nice insurance policy as the Bears once again were bitten by the injury bug.
Depending on how severe injuries to Ryan Mundy, Chris Conte, and McCray turn out to be, Dixon could very well see the field again next week against the Green Bay Packers, and if Monday's performance was any indication, he could have more to offer than fans previously thought.
Pat O'Donnell Shows Great Progress in Punt Game
The Bears may be without an answer when it comes to who will return kicks for them, but at least through Week 3, they may have found an answer on how to stop the other team from racking up big returns on their punts.
That's because O'Donnell, a rookie out of the University of Miami, has been hard at work on balancing big hang time on kicks with long distances, and the results spoke for themselves Monday night. On five punts in the game, O'Donnell averaged 42.6 yards per kick, and while he didn't pin the Jets inside the 20-yard line, he did limit them to just 10 yards of return distance on the three kicks they tried to bring back.
What does that mean, exactly? It means that O'Donnell is not only averaging a nice amount of distance on his kicks, but he is also keeping them in the air long enough to get his teammates down the field to snuff out any returns. It's a very delicate mix to try to master, and O'Donnell looked great at it in this game.