Eight Greenpeace activists who climbed and camped out atop a Pilsen smokestack for more than 24 hours this week were released on bail from the Cook County Jail on Thursday evening.

They had planned to stay up there indefinitely, but severe weather forced them to come down and meet officers waiting to arrest them. All eight were charged with felony criminal damage to property and misdemeanor criminal trespass to land.

But even as they appeared in bond court Thursday, they continued their anti-coal message. The five men and three women showed up to court wearing black T-shirts. Two of the shirts had the words "Quit Coal" printed on them.
The group includes: Julie Farris, 31, of Portland, Ore.; Kathryn Ogden, 27, of Washington, D.C.; Kelly Mitchell, 26, of Van Nuys, Calif.; Gabriel Gerow, 29, of Poway, Calif.; John Rosenwinkel, 22, of Wheaton, Ill.; Benjamin Smith, 31, of San Francisco, Calif.; Cy Wagoner, 34, of Winslow, Ariz.; and John Watterberg, 32, of Brooklyn, New York.

Bond was set at $15,000 for most of them, but Watterberg was held on $30,000 and another on $20,000. Some have previous criminal records, but a lawyer said all the history "involved protests."

Watterberg, for example, was convicted four years ago with scaling the Chicago Board of Trade building to protest the destruction of the world's rainforests, the Chicago Tribune reported, citing court records.

The bails were posted Thursday evening for all eight. A preliminary court hearing was set for June 4, said Cook County State's Attorney's office spokesman Andy Conklin.

The group on Tuesday climbed the smokestack of the Fisk Generating Station, at 1111 W. Cermak Rd., and unfurled yellow banners with "Quit Coal" printed on them. After several hours atop the structure, several of the climbers rappelled down the smokestack and painted the same words on it.

In the courtroom on Thursday were about a dozen Greenpeace members and the activists who, in a separate stunt Tuesday, rappelled from the South Pulaski Street bridge north of Interstate 55. By dangling over the Sanitary and Ship Canal, one climber claimed the group the prevented three coal barges from passing.

Charged in that stunt were: Jeanne Kirshon, 23, of Rockville, Md.; Kaitlin Finneran, 24, of Norwalk, Conn.; Daniel Strandquist, 28, of New York City; Shea Schachameyer, 27, of Milwaukee; Harmony Lambert, 22, of Shasta, Calif.; Carolyn Auwaerter, 25, of Melbourn, Pa.; Laila Williams, 24, of Rockville, Mass.; and Michael Alilionis, 21, of Floral Park, New York, police said.

They were released early Wednesday and are scheduled to appear in court on July 1.

The protests coincided with the U.S. Environmental Protection Agency's public hearing being held in Chicago the same day.
Greenpeace activists atop the smokestack at the Fisk Generating Station in Pilsen.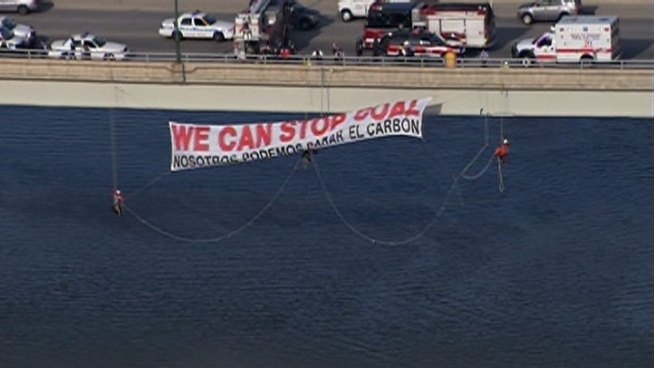 In a separate protest, activists dangled above the Sanitary and Ship Canal just north of I-55.